December 19, 2017 - by: George
Erotic fiction inspired by Henessy A and Ryan Ryder in "Let Me Watch You"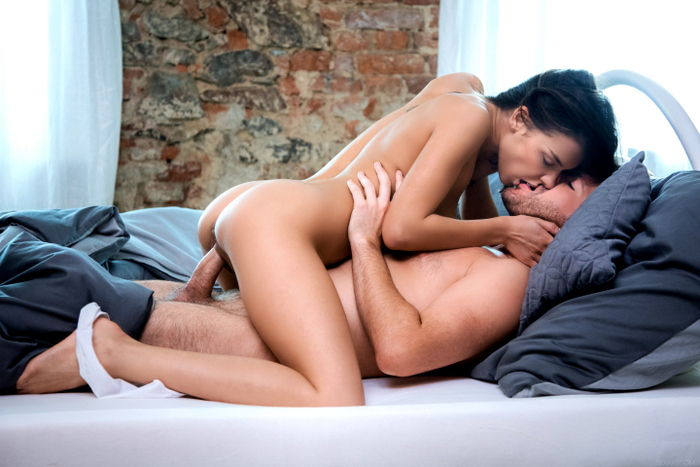 Last year I stayed at my brother's place for the holidays. He had a sprawling apartment over the garage that was perfect for me. After the schools let out, the in-laws, family friends and cousins all drifted in for a few days to relax and party. In the evenings, the twenty-somethings would congregate around the fire at my place, and listen to loud music, watch horror movies and goof around. Joints would get passed and we drank hot chocolate spiked with peppermint schnapps.
The night before the big day, my niece blew into town with her college roommate, Nichole. She was a gorgeous, raven-haired Russian girl with beautiful eyes. Despite the twenty-year age gap, we hit it off and enjoying hanging out together, listening to metal music and talking about traveling.
My shoulders and back were really tight from hitting the gym, but when Nichole offered me a massage one evening, my first instinct was to refuse. She insisted she was a qualified masseuse, and although I wasn't sure if she was serious, I found her sexy Russian accent irresistible.
"I'm really good at this, you should try me! I love to practice," she said, wriggling her fingers, and rubbing my shoulder, her perfect cheekbones catching the light. "Take your shirt off and lie down, I'll make you feel a lot better." She kicked her boots off and led me to the bed in the corner of the room. I couldn't help noticing how sexy she looked in her skintight jeans and ugly Christmas sweater.
I did as she instructed and she started to work on my shoulders and back. She was very good, and my muscles began to loosen up. She straddled my thighs as she worked her hands up and down my spine, making me melt into blissful relaxation.
"Wow, it's getting hot in here," Nichole said, and I saw her sweater tossed onto the bed beside me. I wasn't expecting to feel her hands reaching around me to unbutton my jeans and ease them down. "I'm just working on your sacroiliac joint," she said by way of explanation, grinding down with the heels of her hands. It sent waves of pleasure through me.
She told me to turn over, then sat on my thighs again to work on my chest and shoulders. I was acutely aware of the growing bulge in my shorts as she leaned over me, her lace bra barely containing her beautiful breasts.
"Whew, I'm really hot… do you mind?" she asked, and without waiting for the answer she unhooked her bra and tossed it aside. Her tits swung sexily as she worked on me, round and firm with pointed nipples standing forth from big, satiny areolae, pinkish brown against her pale skin, glowing with a thin sheen of perspiration.
The sexual tension grew as she worked her way lower and shuffled back, landing right on my growing erection. It felt so good as she trailed her fingers over my tingling skin, brushing my nipples. She was working hard at it, rocking and grinding on my boner without inhibition.
Her breasts were bouncing as she arched her back and slipped one hand inside her jeans to diddle herself. She leaned back with one hand on my thigh and rubbed herself against my rock hard boner. I was paralyzed with surprise and arousal, watching avidly as she shivered and moaned through her orgasm. She was almost glowing with energy as she bucked on me, gasping.
After catching her breath she kissed me with warm, passionate lips, then slid her sticky fingertips into my mouth, the heady flavor of her arousal spreading across my tongue. Then her plump breast was in my mouth, and I sucked her nipple, rolling my tongue around it, nipping it to make her shiver.
She tugged her jeans off, lying on top of me naked. I slid my hands down and squeezed her firm ass cheeks, spreading them apart, and she gasped as I circled her asshole gently with a fingertip.
"I like that… I love it!" she sighed. She arched her butt up to my hand and I slid one finger inside her, deep, holding it there. She reached between her legs for my stiff, standing cock and positioned me at her sticky vulva, then sat back so I slid inside her slippery cooze. It felt like heaven. Immediately we were rocking hips and fucking, Nichole riding me with my finger probing her asshole.
Things got intense as she ground her clit hard against me, and I thrust upward, feeling her anus squeezing and pulsing in climax, her pussy getting wetter. She moaned wordlessly as I held her tight against me while she shivered.
"Greg," she breathed against my chest, "I want to feel you cum inside me… cum in my ass, please? Fuck me in my ass!" She climbed off me and assumed the position, wiggling her rear as I pushed into her quivering asshole. Her breath caught and sweat moistened her smooth skin.
"Oooh… that feels so big! Mmmmmnn, so good…" I felt every inch of my veiny hard cock thrust into her tight butthole. Nichole was flattened on the bed now, fingers clutching the covers, with her legs spread wide and my shaft balls deep between her cheeks. "It's so good Greg, now just fuck me, don't stop!"
This position was great, and I must have been tapping her sweet spot pretty well because Nichole came early and often. Her keening voice and bucking haunches, fluttering eyelids and pulsing, quivering asshole drove me crazy. My dick was loving sliding in and out of her shuddering, tight pink ass. Hot, tingling friction began to overtake me and I tried to hold it in to make it last, but eventually I could feel my jism gathering and I knew it was time to finish.
"Gonna cum now, Nichole!"
"Yes! Yes! Cum in my ass, Greg!"
I came like a hot flare bursting into flame, thrusting deep and setting her off again. Nichole was gripping the sheets and yelling her climax, all inhibitions lost in a rush of orgasmic bliss.
When I could think again, I admired Nichole's brownish pink, swollen little rosebud, pearly glaze oozing out. Licking her sensitive pucker soothed her and she squirmed in pleasure. She turned to me and we made out until we drifted off in each other's arms.
We woke up famished and drifted down to the crowded kitchen, Nichole holding my hand and hiding behind me while I snuck us into a couple of corner seats. Might have been a bad idea to let Nichole wear a set of my pajamas. We looked up and every eye was on us, goofy grins all over the place... had we been that loud?
If you enjoy erotic fiction and would like to contribute some of your own, you can email it to fanfiction@metart.com. We don't promise to post it in full, but we will pick out the juiciest bits to share! To see more stories and true confessions, check out our free fiction site, MyErotica.com
December 12, 2017 - by: Rose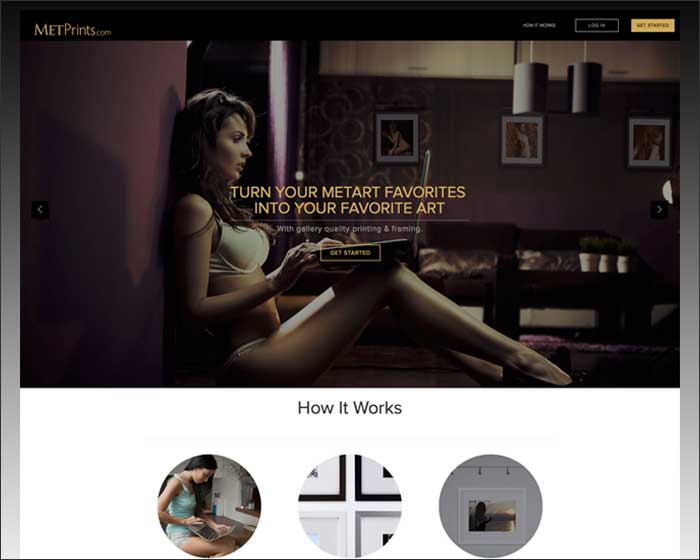 If your bedroom or den is lacking that personal touch, MetPrints offers the ideal solution. Just select a shot of your favorite model at her sweet, sophisticated, seductive best, and your high quality, framed print will be shipped direct to your door. There are already over 100 superb shots of our MetArt Network models to choose from, in six sizes, and shipping is free.
A gallery quality MetPrints picture of one of our beautiful girls makes the perfect boudoir gift for a lover… or a special treat for yourself!
December 03, 2017 - by: Peter
Erotic fiction inspired by Taissia A in "Yoga Inspiration"
I met my girlfriend Taissia in a club and we hit it off right away, ending up back at my place for a drunken fuck. There was something about her that really grabbed my attention, and we arranged to meet again. This time it was at her place, sober, and that's when things got even more interesting.
She'd told me when we met that she was a yoga instructor, but it hadn't really registered – the drinking and the partying definitely got in the way of deep thought. She was so hot, slender with jet-black hair, dark eyes and a gorgeous face. She was wearing this sexy, skimpy white dress, with her hair piled up on top of her head. So I confess, I was only half listening to her because I was way too busy marveling at her beauty. Now, seeing her again, I was even more enthralled.
She'd buzzed me into her apartment building, and opened the door wearing yoga pants and a loose sweater. She gave me a seductive smile as she let me inside, then walked back to her yoga mat.
"Mind if I get more comfortable?" she asked, reaching up under the sweater and peeling down the skintight yoga pants. I couldn't see her pussy under the long sweater, but as she sat with her legs spread into a perfect split, I could certainly appreciate her lovely toned thighs, not to mention her incredible flexibility. I couldn't take my eyes off her.
Taissia brought her feet back together and smiled at me, then rolled onto her back and brought her feet up over her head until she was up on her shoulders, her toes pointed and resting on the floor behind her. She slid her feet apart.
"This is a variation on the plow pose," she said softly, spreading her feet wider.
I could see her perfect ass, cheeks parting, asshole and shaved pussy on display. I don't think I'd said more than two words since I'd walked through the door.
"Wow…" I gasped.
Unfolding herself, Taissia took off her sweater, baring her beautiful breasts. She sat up straight, breathed deeply and looked me right in the eye as she hooked first one and then the other leg over her shoulder. I swear, I thought she was going to start eating her own pussy! She was so flexible.
"Come over here," she said.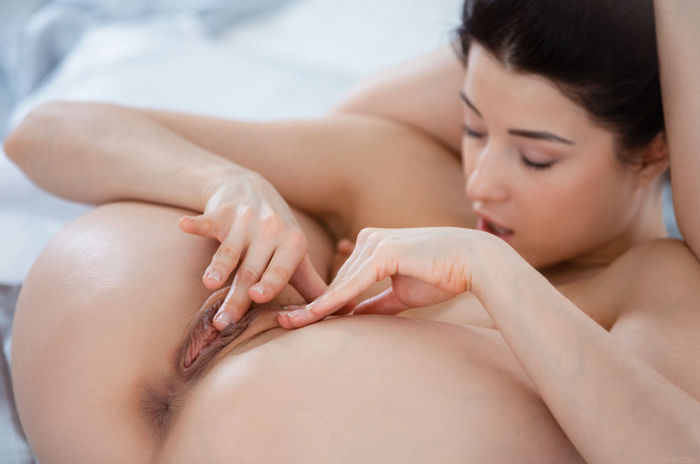 I knelt in front of her, eyes fixed to the glistening pink folds of her pussy as she traced her finger over them. Slowly, teasingly, she dipped a finger from each hand into her pussy, spreading it further open. She offered me one to suck. My dick was hard as steel as I tasted her juices. I leaned closer and gave her pussy a kiss, then pushed my tongue into her hole. I swirled it around, sucked on her clit, and spread her wings open with the flat of my tongue. She moaned and ran her fingers through my hair as I ate her hungrily, enjoying her juiciness.
"Fuck me…" she gasped, somewhere between an invitation and an instruction.
I was naked in seconds, stroking the head of my cock against her soaked, splayed pussy. It looked amazing, my dick smeared with her cream, her slit shiny with her excitement, her body bent like a pretzel so her face was close to the action.
"Your cock looks like it wants to be in here," Taissia said, tracing her fingers over my shaft and slipping a couple inside herself. "Do you want to fuck me? Or maybe you'd like rest those balls on my pussy and push your cock into my mouth?"
I didn't have to be asked twice. Kneeling up, I had my balls nestled on her pussy and my cock as close to her mouth as I could get.
Taissia bent further forward and took the head of my cock between her lips. It was an effort for her and she couldn't get too much in, but it was such an incredible sight I didn't care. I thrust into her mouth, slowly and gently, my balls getting smeared with her juices on every stroke, her tongue lapping my glans.
After a while I really wanted to get in deeper, so she untangled herself, stood with her feet planted firmly apart and her back to me, then bent all the way down, holding onto her ankles, and smiled at me from between her feet.
"Well, come on then," she giggled. "Don't just stand there staring, fuck me!"
I stepped to her and eased my cock inside. She was so tight, wet and hot. I ran my hands all over that awesome ass and began to fuck her, slowly and steadily because I didn't want to send her sprawling.
"Harder!" she urged me, placing her hands flat on the floor to brace herself, legs still perfectly straight.
I hammered into her, fucking her like my life depended on it. She was hollering and moaning, slamming back against me, and I felt her pussy ripple and clench around me as she climaxed. Now I didn't hold back, blasting my cum deep inside her pussy, hands gripping her hips, pulling her on to me with every squirt of spunk I fired off.
She held herself in that position when I pulled out of her, and I got to watch as she flexed her pussy until my hot cum dripped out and splattered on the yoga mat.
Since then she's taught me a few yoga positions – and a remarkable number of sexual positions!
If you enjoy erotic fiction and would like to contribute some of your own, you can email it to fanfiction@metart.com. We don't promise to post it in full, but we will pick out the juiciest bits to share! To see more stories and true confessions, check out our free fiction site, MyErotica.com
18 U.S.C. 2257 Record-Keeping Requirements Compliance Statement.

Warning - This site contains adult material of a sexual nature - you must be of legal age in your area to view this material.
All materials on sexart.com, are copyright © 2019 sexart.com. All models were at least 18 years of age when photographed.
0.17.0 c958d3