November 22, 2017 - by: Rose
We're thrilled to announce that SexArt is a finalist nominee for the prestigious Erotic Site of the Year award at the 2018 XBIZ Awards.
Not only that, but our ground-breaking series "Love For Sale 2" has received an impressive handful of nominations: Vignette Series of the Year, Best Foreign Feature, Best Director – Foreign Feature for Alis Locanta, Best Actress for Chloe Amour, and Best Supporting Actress for Layla Sin.
In addition, "Three," a compilation DVD featuring five three-girl scenes from SexArt, has been nominated for Best Foreign Non-Feature, and Best Director – Foreign Non-Feature for Alis Locanta and Andrej Lupin.
XBIZ is the adult industry's leading publisher of business news and information, and the awards event will be hosted by adult superstar Jessica Drake on January 18.
With a bunch of nominations for other sites in the Metart Network – including our flagship site MetArt nominated for Nude Photography Site of the Year, The Life Erotic nominated in the Erotic Site of the Year category, and Viv Thomas nominated for Foreign Studio of the Year and All-Girl Site of the Year – we're feeling the love.
Wish us luck!
November 16, 2017 - by: Kat
Erotic fiction inspired by Samantha Rone and Myiuki Son in "Lights"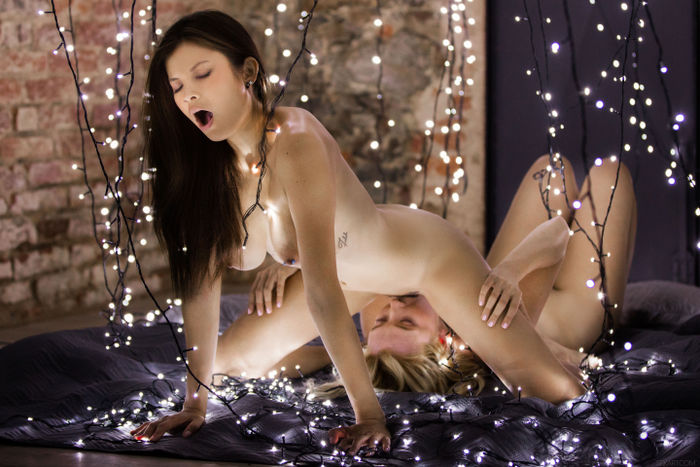 Since my accident, my vision has depleted to the point where I can only see blurred light. There is no more form to things, no depth. I am afraid to go out most days, considering I live in a busy city full of cars and passersby. My friend Samantha has been my saving grace through all this, as my recovery has been very emotional.

I wait in the living room as I hear her stepping around me busily. I felt a light breeze on my face as she walks back and forth. She says she has a surprise for me. I am trying to be patient, but I can't help but wonder how I will be surprised by something I can't see.

"Almost ready," she says as she walks towards me. She takes my hands and stands me up. I get startled as I feel strings hanging everywhere. They feel like plastic cords, maybe Christmas lights. I feel the slight warmth of a small bulb that my fingers brush upon.

I hear a clicking noise. Samantha is flipping a switch… and suddenly, I can see! There are halos and orbs everywhere. I am stunned, and marvel at the different sizes of each glow, my heart lightened by the instant relief that I am not trapped in the dark.

"What is all this?" I asked. "What did you do to my house?"

"I've found a unique way for you to train yourself into seeing objects around you."

"This is amazing," I say. "I can't believe you went to all this trouble for me."

I reach my arms around her and hold her close. I squeeze her gently and rest my head on her shoulder. Then, a moment of sadness comes over me again.

"I'm so scared," I cry, gripping her shoulders. "Sooner or later, I won't even be able to recognize you anymore."

Samantha is silent for a moment, then responds softly, "Then, I will help you remember, so you will never forget me."

She lets go of me for a moment; I hear rustling and smell her sweet perfume, her silky hair whipping past my face. She takes my hands, and presses them to her body. Her warm breasts are in my hands, her smooth skin at my fingertips.

I can barely breathe as she reaches around me, pulling my blouse up above my head, then my skirt to the ground. The energy between us is carnal and exciting, but also a bit frightening. I don't know how our friendship took such a drastic turn in a single moment. But there is no turning back.

I lean in nervously as her lips meet mine. We kiss just the way two brand new lovers would, soft and tentative, our hearts racing while our bodies stay still. Her breasts press to mine, our pussies brushing upon each other's thighs. For a second, I envision her the way I remember, except naked and exposed to me in a way I never imagined. Her long golden hair flows down her back, her voluptuous curves begging to be kissed. Those baby blue eyes gazing lustfully at my naked form. An entire conversation in silence.

She lays me down on the floor. The lights dangle over my neck and face, taken over by the soft caress of her mouth. She licks up my neck and meets my lips in a kiss, then bites me gently. I feel deliciously desired, making me pluck up the courage to kiss her back.

She licks down my chest and sucks my nipples, making them stiffen through my piercings. My wetness stirs within me, beginning to flow. She kisses lower down my body to my stomach, then slides her tongue slowly down my middle, making my pussy quiver in anticipation.

She spreads me open with her fingers and tastes me deeply, long deep strokes up and down my slot. It's been so long since I've felt anyone touch me there. I am so sensitive to the point where her every breath adds stimulation. It won't be long before I burst into climax.

She lets up a moment and eases her fingers inside me. I'm so wet, I can feel my juices leak around them, dripping slowly to my rim. She tastes me again, lapping her soft tongue up and down my pussy while her fingers hook up into my G-spot. My body tenses, then shivers as my climax nears. She fucks me faster and harder, sucking my clit strongly as her tongue whirls around it. In seconds, I release a powerful, throbbing explosion! I moan in pleasure as my body shakes uncontrollably. I see stars! I feel my orgasm from my head to my toes. It's unlike anything I've ever experienced before. My senses have heightened to a whole new level.

I am awake and alert; my new eyes are now my lips and fingers. My very skin can see her as I feel her. Every ounce of me wants her on her back, begging to return the favor.

The hanging lights let me know exactly where she is, where her thighs are spread, which hand grips my hair, pulling me closer to her wanting cunt. My lips find her clit, as my tongue follows, ready to serve. I lick and suck her pussy gently at first, then building speed. My aim and accuracy are rewarded by her moans, and her little sexy shivers.

I sneak my fingers inside her, just deep enough to tease. Her pussy grips them hungrily, like a starved animal trying to swallow its prey whole. I motion my head up and down, side to side, leaving no spot or angle untouched. I lick deeper, fucking her with my tongue and fingers at the same time, then come up to suck her clit again. I suck it slowly and firmly, just like a cock. I don't stop until I can taste the tremors.

Her hips are wet with sweat, her pussy leaking. My chin is drenched with her lovely juices. I lick up every drop I can, savoring her sweetness, marinating in her sex. I breathe her in, then kiss her pussy softly.

She takes my face in her hands and kisses me fiercely and passionately, our lips no longer in hesitation to touch. Her touch is now embedded, encoded to my flesh. I will know it in light or in darkness. I will know it in life and in death.
If you enjoy erotic fiction and would like to contribute some of your own, you can email it to fanfiction@metart.com. We don't promise to post it in full, but we will pick out the juiciest bits to share! To see more stories and true confessions, check out our free fiction site, MyErotica.com
18 U.S.C. 2257 Record-Keeping Requirements Compliance Statement.

Warning - This site contains adult material of a sexual nature - you must be of legal age in your area to view this material.
All materials on sexart.com, are copyright © 2019 sexart.com. All models were at least 18 years of age when photographed.
0.17.0 c958d3