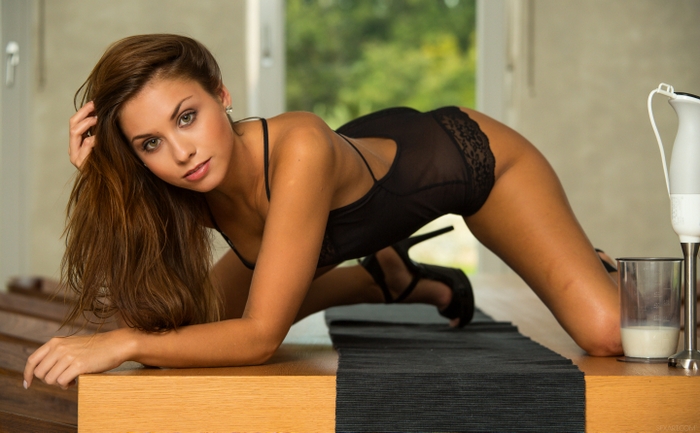 Stunning, sexy and cuter than a basket of kittens, Sabrisse A is one of our most popular SexArt models. Her huge hazel eyes, flawless golden skin and sensational body make an instant impression, and at 27, the Czech star has developed a confident, natural sensuality that makes her utterly irresistible.
I was lucky enough to meet the beautiful babe while on location in Spain, and was immediately struck by how gorgeous and sweet she was. I didn't get the chance to hang out with her for long back then, so I'm delighted that director Alis Locanta recently interviewed her on the set of his movie shoot for our sister site Viv Thomas. You can see the full interview here, but here are a few highlights…
Sabrisse, how would you describe yourself?
S: I am an extrovert, sometimes I'm very friendly. But sometimes I consider myself to be a very quiet and introverted person, I just need my space and don't want anyone to talk to me. I am romantic. I am an exhibitionist.
What's your favorite thing about your appearance?
S: Sometimes I like everything about myself, and sometimes I don't like anything. It's not easy to pick just one thing, but maybe my eyes, my mouth, or my lips. I try to do exercise and work out, but not that often; and I try to eat clean, not much junk food.
What do you like about making movies?
S: What I like most about making movies is getting to know new people, new places, new crew and new photographers – the whole thing together. I do like watching my own movies. I have watched them all.
Do you have a high sex drive?
S: I do get horny quickly, yes – with my boyfriend, immediately. And I like to masturbate, sometimes I use sex toys, but very rarely. I like to use just my fingers.
Are you bisexual?
S: Yes, I have had sex in real life with a girl. Actually, I like girls more, because I think girls' bodies are more beautiful. Sorry, guys! I'm bisexual, I consider a woman's body very beautiful, I like to watch it and I like to touch it. I have sex with only one guy, and that's my boyfriend. My favorite position is doggy style, when he holds me from behind.
Do you like sex in public?
S: The most unusual place I have ever had sex is on an airplane. I've had sex in public places, not just once, but many times.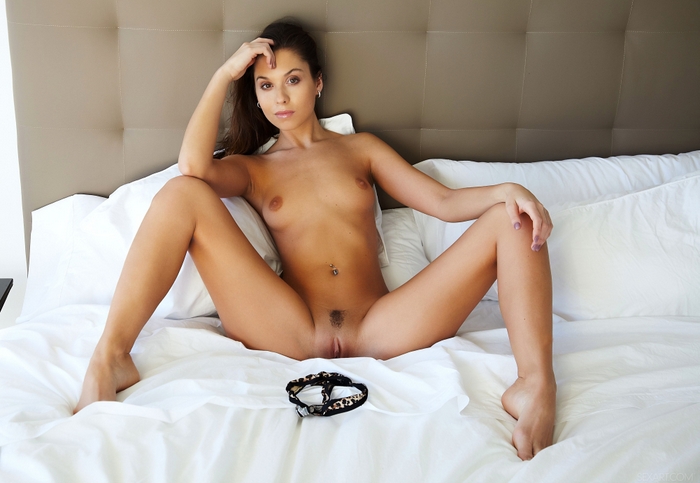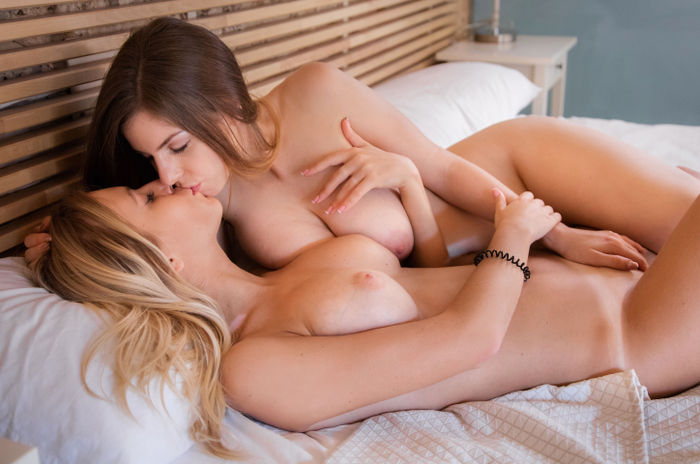 Whether or not you're a fan of enormous breasts, you would have to be made of stone not to be moved by the sight of Stella Cox and Aislin going boob-to-boob in episode three of Andrej Lupin's playful and arousing new series "One Day In HotYlek." The jiggle factor is off the scale as the two top-heavy honeys squeeze, fondle and suck each other's titanic tits avidly.
Sexy blonde Aislin takes the lead at first, eating Stella's hot pussy so hungrily it makes her huge natural breasts wobble in the most mesmerizing manner. Stella can't resist stroking and toying with her terrific titties, raising one to her lips to suck her own nipple. The gorgeous girls squash their boobs together as they rub each other to a froth of excitement, before Stella goes on all fours, heavy tits swinging as Aislin fingerbangs her from behind. Some spectacular camera angles put you right there in the middle of the glorious action, so close you could almost reach out your tongue to lick those bouncing beauties… So if you're a big boob lover, this is one movie you will definitely not want to miss!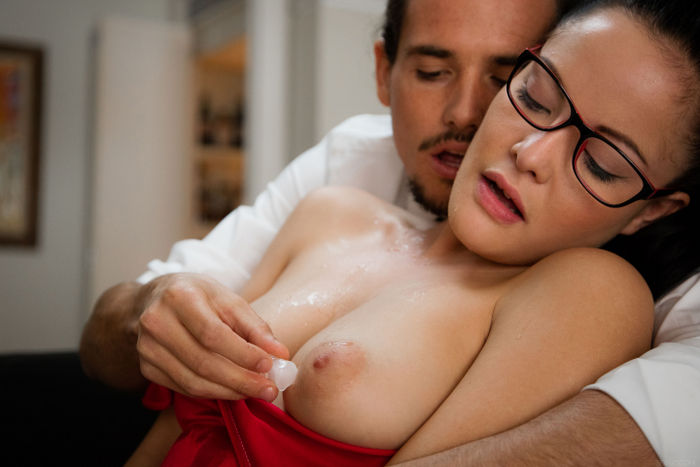 Erotic star Dolly Diore is a fascinating woman, with a strong, stylish look and a big appetite for sex. The 24-year-old Hungarian honey with jet-black hair and mesmerizing eyes has appeared in four movies on SexArt to date, all of which showcase a different aspect of her sizzling sexuality. In "Redemption," a passionate fight with her girlfriend Chrissy Fox grows amorous; in "Unknown Feeling," she is hesitant and shy, gradually allowing Tyler Nixon to seduce her; in "Perfect Awakening," she is the ultra-vixen in sexy lingerie and heels, rousing her man with a blowjob; and in episode two of the sensational series "Bittersweet Tale," she plays the sweet chef who has spicy sex with her lover perched on top of the washing machine, her big natural breasts jiggling.
Over on our sister site Viv Thomas, Dolly has revealed a kinky, dominant side to her nature, playing naughty power games with her girlfriends in director Sandra Shine's movie "Dark Desires." Dolly is the ideal dominatrix, bringing a sense of playfulness to the role even when spanking and teasing her eager costars, and she's forthright and funny when it comes to talking about her sexual preferences. You can see Sandra's full video interview with her here but here are some highlights…
"I've been making movies for three years now, I like the traveling and getting to see so many places around the world," Dolly reveals. "I really like the interesting people I've met; the whole business is so open and respectful, and I'm glad that they appreciate me for who I am, not because of what I do."
She loves making movies with women: "I'm bisexual. The first girl I met in my private life was really good, so that's how it started. I really love sex, and girls. I enjoy dominating girls and showing them what to do. It really suits me. I'm mostly submissive if I'm standing in front of a man. I just can't dominate men. But with girls, I'm dominant. There's no way I can be submissive and let them spank me. If I feel true emotions, so I can see she's enjoying it and getting excited, usually that's enough to get me turned on. I love to satisfy and surprise."
Sex in unusual places is fun too: "Nowadays a bed is boring. Since I got into the business there is no place where I can't imagine having sex – even if it's the floor, or on a table. I will do it anywhere, anytime. I have done it on a riverbank, it was cold but it was nice."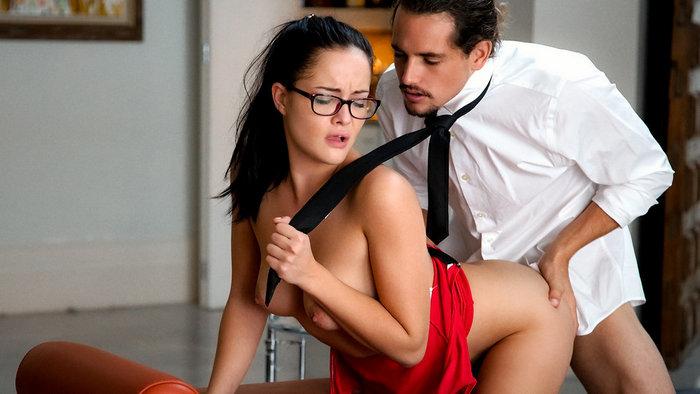 On her favorite position: "It may sound boring, but missionary, with me underneath. I just need to lie down and enjoy, and I can use my hands on my pussy – so it's more pleasurable for me. But sometimes when I'm with my partner we switch between so many positions. A little like this, a little like that, makes for complete sex. That's what I like."
Does she masturbate often? "Of course – maybe sometimes too much. Usually I use my hands, but I bought my first vibrator when I was about 20. It was a really, really late gift for myself. But since then I've found out that it's so much easier to find the quickest way to the top, and my hands can do everything I want and need. For so many years I had just clit orgasms. I had to practice more, and find a good partner, of course, to have a vaginal orgasm – and now I'm really addicted to it. I love to watch porn, but nowadays I have a different point of view – I see so many more details than before. But it still gives me pleasure."
Has she done anything that she would call really naughty? "I used to fantasize about having sex with two girls, and with two boys, and I've done both those. Maybe when drunk at parties, going from the living room to the bathroom, and so many people at the same time, enjoying the drinking, the dancing, and the fucking. It's so fun, so many nice memories."
18 U.S.C. 2257 Record-Keeping Requirements Compliance Statement.

Warning - This site contains adult material of a sexual nature - you must be of legal age in your area to view this material.
All materials on sexart.com, are copyright © 2019 sexart.com. All models were at least 18 years of age when photographed.
0.17.0 c958d3