February 22, 2017 - by: Rose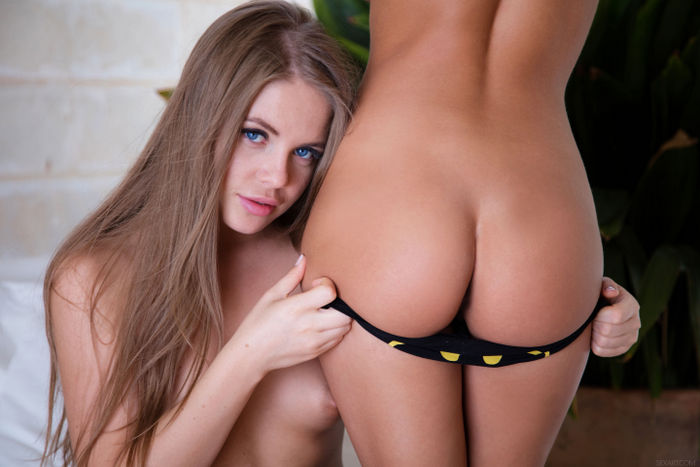 Alessandra Jane is simply adorable. The 22-year-old Russian babe is cute as a basket of kittens and naturally sexy with it, her long blonde hair, big blue eyes and gorgeous smile making her an instant favorite. The lively and captivating charmer is equally hot whether she's playing with guys or girls; she has four movies to date here at SexArt, each of them showcasing a different aspect of her character.
In her debut, "Everything For You," Alessandra Jane demonstrates that she's perfect girlfriend material, treating Chad Rockwell to a sensational blowjob from her luscious lips and then riding him, her petite body so alluring. In "The Factory" she looks like a high-class fashion model, beautiful breasts spilling out of her lingerie as the heat rises in her encounter with busty Anabelle. In "Follow Me" she is the seductress, teasing Ricky with her curves and flirting until he can't resist grabbing her for a high-energy fuck; and in "Mikado" she's sweet and playful, teaming up with Anabelle again for girly fun of the most enjoyable kind. It was my pleasure to find out more about this eminently watchable rising star…
Alessandra Jane, please tell us about yourself.
AJ: I was born in Moscow and still live there. I love sports, being active, cycling, pop and house music. I have a little dog named Peach.
What inspired you to become a nude model?
AJ: I was inspired by seeing beautiful photos and videos. It's a good way to earn some money, plus it's great for overcoming psychological fears and insecurities.
How do you stay in such good shape?
AJ: There's no secret, I lose and gain weight just like everyone does. I love sports, but I do laze around sometimes. But I love everything about my body!
How long have you been making movies?
AJ: It's been three years now. I enjoy new encounters, changing the way I look, thinking of interesting ideas for shoots. But I don't often watch my own movies, I feel shy.
How would you describe your personality?
AJ: I do have a temper, I'm fiery, but also kind and communicative. I would never start a conflict. I want to get involved with everyone, as there are so many smart people around. I have a romantic nature, but wouldn't say no to a lashing! And I am an exhibitionist.
Do you have a strong sex drive?
AJ: It depends on the person I'm with. Sometimes I feel like I'd love to jump on a person, but I always remember that good girls don't behave that way.
Are you dominant or a submissive in bed?
AJ: I prefer to be submissive. It turns me on more. I also like to resist. I'm turned on by the idea that a man, or a woman, will take me by force, and even after I say no, they'd still persist and take me.
Did you have sex with girls before making movies?
AJ: Yes, I had sex with a girl before starting to shoot adult movies. I do think of myself as bisexual, although I'm not attracted to every girl I see. I prefer men, but wouldn't say no to sex with a girl, depending on my mood. Girls are gentle in sex and men are harshly dominant. I like brutal men, they are my weakness! And I like women who are persistent.
What's your favorite position?
AJ: Face to face or doggy style.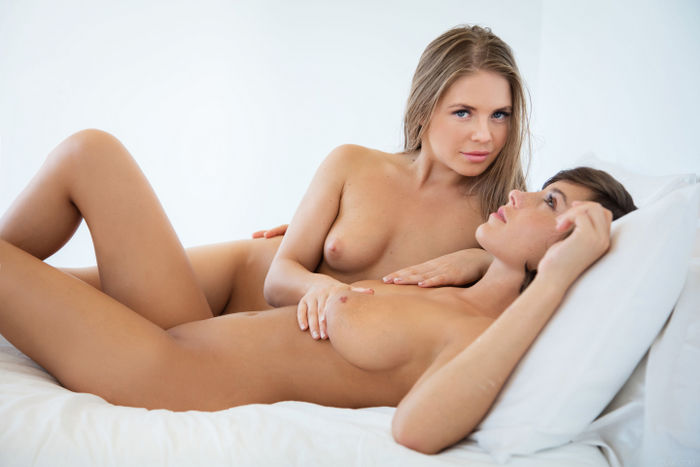 What's the most unusual place you've had sex?
AJ: In a swimming pool.
Do you like to masturbate?
AJ: Yes, I love it. I use my fingers, rather than toys.
What's your favorite sexual fantasy?
AJ: To have hot, sensual sex with two hot guys.
Where do you prefer to meet men – or women?
AJ: I prefer to meet people in bars, the cinema, while out for a walk, but these encounters don't tend to lead to anything intimate or sexual.
Do you remember your first kiss?
AJ: Yes, it was quite uncomfortable, but very beautiful. I would love to go back to that moment again.
What was your most memorable orgasm?
AJ: It was in my boyfriend's car. He was touching me with his fingers, going faster and faster and that was the best orgasm that I've had recently. I could only imagine what would happen when he entered me.
Have you ever had a threesome?
AJ: Of course!
What are your ambitions?
AJ: Purposefulness, rationalism, pride.
Anything you'd like to say to your fans?
AJ: I love you! Let's talk to each other more often!!!
February 15, 2017 - by: George
Erotic fiction inspired by Paulette A in "Epavlie"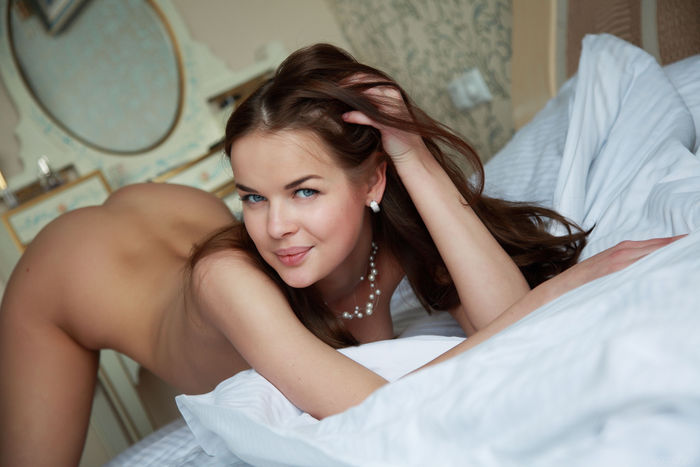 I was in London for a trade show and chose to stay in a guesthouse as I was sick of hotels. I arrived mid-morning, jet lagged from the long flight. The owner was an attractive brunette, but to be honest she barely registered I was so wiped out. I dropped my bags and headed over to the conference center.
When I got back after a long day, the owner was kind enough to make me a snack and a hot drink. Something about her looked really familiar, but there was no reason we would ever have met before. I figured it was just the jetlag playing tricks on my mind. She offered me a nightcap to help me sleep; I was enjoying her company, so I went into the living room with her for a glass of whisky.
As we clinked glasses I asked her to call me Greg, and she replied, "All right, but then you must call me Paulette." The name rang a bell, and she did look so familiar – slender and pretty, with a lovely smile. As we chatted, she told me she was originally from the Ukraine, and had been a model. That didn't surprise me, she was certainly attractive enough; but the penny still didn't drop. I was still thinking about her smile when my head hit the pillow, and I was out like a light.
The next morning I felt like a million bucks. Paulette fixed me breakfast, and invited me for cocktails that night – I was pretty sure that wasn't in the brochure! My day went well and I went back to the guesthouse, showered and went downstairs to meet Paulette. She looked amazing in a figure-hugging black dress and heels that showed off her stunning figure.
I'd brought the ingredients for some hors d'oeuvres, and Paulette watched, mesmerized, as I put them together. Being a chef certainly has its benefits. I placed a dozen corn tortilla chips on a plate and topped each one with a dollop of fresh guacamole and lobster tail. Paulette's eyes were rapt as she watched me, and as she leaned in to try one she idly put her arm around my waist.
"Mmmm, that's amazing," she purred, giving a little orgasmic shimmy.
We moved to the couch with our drinks and snacks, Paulette sitting close, our legs almost touching. Paulette's legs were incredible, long and slender in her strappy heels. She put her hand on my knee while she munched another chip. Her perfume was intoxicating, gardenia and musk and something else...
"Greg, is something wrong? You're staring."
I blushed a little, and so did she. Time to 'fess up. "Paulette, it's just that you look so familiar. I'm sure we haven't met before but I can't stop thinking about you."
"Well that's not so bad," she smiled. "Maybe you saw some pictures of me? I didn't say so before, but I was a nude model…"
Recognition flooded through me. Of course! I blushed even harder as I realized what that meant; I had lingered over naked photos of her, studied her beautiful body… I gazed at the ceiling, embarrassed.
Paulette immediately put me at ease though, teasing me a little bit and then going to the mini bar to fix us both another drink. My eyes were glued to her every second. She was every bit as gorgeous as I remembered, and her figure had filled out perfectly; as she turned I detected a lovely jiggle.
We talked about her modeling days and she got a bit emotional remembering the good times. I gave her a comforting hug, those big, soft puppies a distracting pressure against me. I'm a keen amateur photographer, and somehow I ended up agreeing to take some photos of her, just for a bit of fun.
I could hardly believe my luck! I set up my camera on a tripod opposite the couch while Paulette went to get ready. She was a vision from a daydream as she stepped out of her bedroom, still in her heels but wearing nothing except a white lace top and skimpy panties that left very little to the imagination.
"You look incredible," I told her, and I meant it. "Portraits aren't my usual thing though, so why don't you take the lead?" As I'd hoped, deferring to her modeling experience boosted her confidence and we soon got into the shoot. We started with her posing in the doorway, bending over with perfectly straight legs, her ass looking fantastic in her barely-there panties. She moved to the couch, lying along the back with her bottom facing me, giving me a saucy wiggle and a grin. Then she kneeled on all fours and placed her hands on the floor; I reclined even lower and shot upwards, catching a big smile and her perfect breasts hanging low with an assist from gravity, areolae visible through the sheer fabric. Then a quick shot of Paulette passing into the bedroom and beckoning for me to follow.
She kneeled on the bed with her back to me, flashing me a smile over her shoulder as she peeled off her top. Her boobs spilled out, even better than I remembered from her photos. I began to shoot close ups of them, noting how her nipples were hardening alluringly.
I genuinely wasn't expecting things to go any further, so I practically stopped breathing as she started lowering her panties, a teasing milimeter at a time. Finally she was completely naked. Uncovered now, her beautiful folds were mesmerizing. I moved in closer; her womanly aroma was making my face flush with desire, and I could see she was getting wet.
"Can you roll over and… um… push your bottom up?" I asked shyly.
"How's this?" she said, holding her firm little cheeks apart, giggling.
"It's gorgeous, but it's getting very difficult to be a gentleman and a professional," I grinned. I managed to stop my hands shaking enough to get some great shots of her smooth pussy. It was stunning, lovely and fluted, the hood and clit distinct and perfect. Pale pink, and flushed darker on the lips. Paulette was running her fingers over her pussy. I took a long look and then our playful glances locked.
"You're so beautiful, Paulette…" I said, and then we were kissing. Lips so wet and sweet, I couldn't stop. My arms were full with this lovely naked woman. Paulette began to massage her folds and circle her perky clitoris. I pulled back a little so I could watch her.
She smiled so sweetly as she relaxed against the pillows, then closed her eyes and began to pleasure herself intensely. She spread her legs wide and lifted her pelvis. I had to keep shooting, this was incredible, her lips just beginning to open, revealing her shining pink interior. She reached down with two fingers and pulled up and out, making her slit into an oval. Wet. Her pussy was definitely flowing.
Then her fingers were searching and two fingers found their path, sliding deep inside her and out again, shining with her flowing wetness. At that moment I was lying flat, getting the most incredible shots of her bottom, her labia glistening in the light. She turned on her side, soaked two more fingers with saliva and swirled them around her asshole. All this while she was finger fucking herself with passion.
"Ah Greg, I wish this was you!" she gasped, fingers deep in her ass now, spreading it and pounding herself.
"Soon enough Paulette, but don't stop! Please finish, baby."
She rolled onto her knees, face down and her bottom held high, her fingers fucking her pussy and asshole, hands slapping on her cheeks. She buried her face in the pillows and shuddered her orgasm out, gasping and shivering.
Enough photography! I thought and put the camera down, dropped my pants and slid beside Paulette. I wrapped her in my arms and we kissed again. She reached for me and I was stiff and ready.
She wrapped the fingers of both hands around me. "Greg you're so lovely and big! I don't know if you'll fit!"
"Oh sure, Paulette, it won't be a problem."
"No I mean in my bottom! Now you know I love it..." she smiled.
"We'll see, but right now I want to watch you while you come, baby." I climbed on top and seconds later I was inside her pussy. Paulette was ecstatic, her hands all over me while I pounded her steadily, her slim ankles crossed behind my back. She pulled my lips down to hers, thrusting up with her pelvis to meet me, grinding to prolong her climax, eyes squeezed shut in pleasure.
When she caught her breath, Paulette rolled over and wiggled her tight little bottom at me. Her eyes were glowing and her smile was wide.
"I'm ready for you now. You can fuck my bottom now, darling..."
I licked her asshole, leaving it nice and wet. Then I got in position and gave it a try. First push I got it inside while Paulette leaned back a little to help, but I was able to get in a bit deeper each thrust. She was very tight yet able to stretch around me and soon I was deeply inside her ass. It felt as if we were locked together, but I could move a little if I was gentle. And I was, so slow and easy, letting Paulette set the pace. Paulette was hungry for it, and before long we were able to get a smooth pace going. Her bottom felt great – warm and tight and round and lively, shivering a little, and I was shivering too; I was close. But we made it last; I was right on the edge but held back and fucked very slowly, feeling the incredible friction of her asshole stretched so tight around my shaft.
"Are you ready, Paulette?" breathing hard...
"Yes, Greg!" gasping, "Do me now!" I wrapped her up, my arm around her boobs and my hand in her folds, banging on her clit, my hips thrusting hard and firm, pushing Paulette into her orgasm. She almost got free she was so wild in her pleasure, but I held her slim body tight and she shuddered in ecstasy, moaning while I came as well; feeling her tight bottom grow warm and slippery and my brains went a little scrambled...
That was just the second night of the trip. Paulette and I met for cocktails at eight every night, and so much more. I quit my job and I've been in London ever since!
If you enjoy erotic fiction and would like to contribute some of your own, you can email it to fanfiction@metart.com. We don't promise to post it in full, but we will pick out the juiciest bits to share! To see more stories and true confessions, check out our free fiction site, MyErotica.com.
February 08, 2017 - by: Rose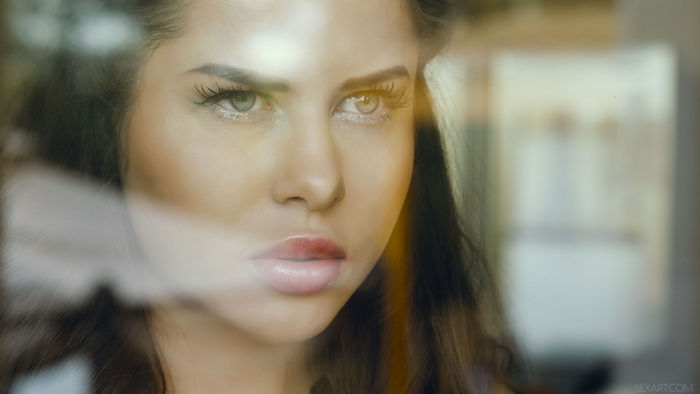 Russian beauty Cassie Fire is a rising star to watch. The gorgeous blue-eyed brunette made an instant impact with her energy and passion in Alis Locanta's tempestuous "Unread Message" last month, riding Juan Lucho like her life depended on it and treating him to a blisteringly hot blowjob. It was an explosive debut, and if you're craving more you'll be able to see her in a brand new movie next week, which is no less intense.
The 23-year-old from Moscow is refreshingly uninhibited when it comes to talking about her sexual experiences and desires. Here's a chance to learn a little more about her…
"I like having sex on video and showing my naked body to people," Cassie reveals. "I started by doing photo sessions in Moscow, and a girl asked me if I wanted to do more 'passion.' I didn't know it was for porn, but when I found out that it was, I wasn't scared, because I like sex, and sex videos. So I said okay. I like doing sex scenes, and sometimes I like playing in historical costumes like a professional actress. I like the atmosphere when I'm shooting – it's really fun."
Cassie has no problem keeping fit for her scenes: "I go to the gym. I was a professional dancer before I started working in porn. I like my ass! But when I see myself in a movie I don't think I look like a porn actress."
It comes as no surprise that this sensual and vivacious girl has a high sex drive: "I have good sex in my life. I remember having many orgasms, but the most memorable one was… no, I can't say, because he's famous, and if I tell you…! The most unusual and memorable place I've ever had sex was in the sea."
When it comes to fantasies: "Before I started in porn I had sexual fantasies, but now I can do them on set. Actually I do have a sexual fantasy, I want to have sex with two guys, because in real life I have never done that. I'd like to try a DP for the experience. I also want to have sex with a transsexual."
Cassie is equally open to sex with guys and girls: "I'm never jealous when I'm with a guy and he looks at a girl he likes, because I'm the first one to say that the girl looks cool. It's different with sex though. Sex with guys is more animalistic, I like that style; but with girls it's more beautiful. A person's body isn't that important to me. I prefer when guys have a sense of humor and can joke with me, I like fun characters. But I prefer it when guys look more brutal – I don't like sweet boys, except sometimes for sex. My favorite position with a guy is doggy style, like an animal. For me it feels more passionate. With girls it's different. I don't have a preferred position, I prefer touching and kissing."
She has big plans for the future too: "Being an actress is good, although it's not a very easy job. Sometimes I feel I want to do more. My big ambition is to open my own production company. In the studio I do what people want and I like it, but they're not my ideas."
Something tells us this little firebrand will be a force to be reckoned with! You can see a full video interview with her here.
18 U.S.C. 2257 Record-Keeping Requirements Compliance Statement.

Warning - This site contains adult material of a sexual nature - you must be of legal age in your area to view this material.
All materials on sexart.com, are copyright © 2019 sexart.com. All models were at least 18 years of age when photographed.
0.17.0 c958d3