December 20, 2016 - by: Kat
Erotic fiction inspired by "Ordinary Night" starring Linda Sweet, Antonia Sainz and Anabelle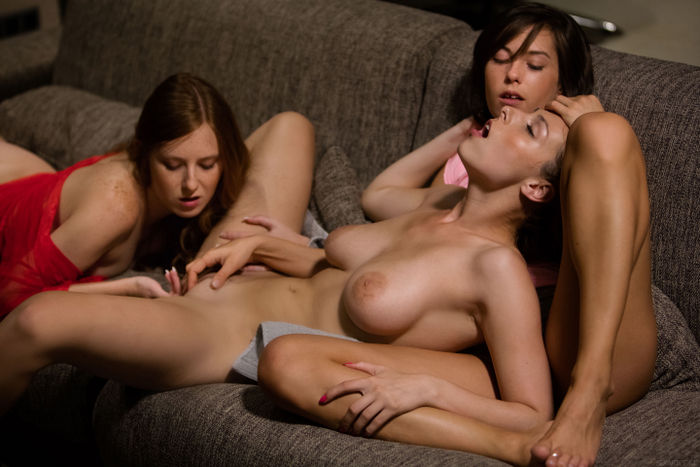 Antonia was in the middle of a disastrous divorce and turned to her friends for comfort. Linda and Anabelle insisted she stay with them until everything was finalized. It was nice having her there. It gave them time to catch up, since they hadn't seen much of her during her marriage. The first few nights were rough. It took a while for Antonia to talk about her feelings, shedding a few tears in the process. In time, she felt better. The girls' company was just what she needed to begin healing from her broken heart. Antonia was grateful to have such caring and supportive friends.
Linda and Anabelle were no ordinary women, but the kind of couple that lived by their own rules. They were very open-minded and didn't tie each other down, or put labels on their relationship. It was extremely different from what Antonia was used to. Everything about their lifestyle was relaxed and carefree. They rarely even closed any doors in their house.
One morning, Antonia saw Linda eating Anabelle out over the bathroom counter. She was walking past and stopped in the hallway, her attention drawn by the sounds of their moans. She couldn't resist peeking through the half-open door. Anabelle saw her and gave her a smile. Antonia got nervous and walked away when their eyes met, but the image had been replaying in her head all day. She loved the fact that her friends were so uninhibited. This made it easier for Antonia to be herself and start embracing her own newfound freedom.
That evening, all three of the girls were in separate parts of the house, engaged in their own activities. Linda was in the kitchen making drinks, Anabelle was in the living room listening to music, and Antonia was just finishing up a long hot shower. Linda joined Anabelle on the couch and set the drinks down on the coffee table. Anabelle went upstairs to get Antonia, who was just about to get dressed when she reached the door. Anabelle saw a glimpse of Antonia's voluptuous form while she was drying herself off, and gave her a look of admiration.
"You don't need to dress," Anabelle suggested with a smile. "Linda already has our drinks waiting. Come down as you are."
Antonia happily agreed and went downstairs in just her towel. Somehow, seeing Anabelle naked that morning made her more comfortable about being undressed. She saw that Anabelle wasn't wearing much either. The lower curves of Anabelle's bottom peeped out under her tiny shorts and her T-shirt barely covered her stomach. Antonia couldn't help but stare at her from behind as they walked down the steps.
Once they reached the living room, Antonia saw that Linda was just wearing a sheer red robe. She could plainly see her perky breasts right through it as she took her glass.
The drinks Linda made were very strong. Just one glass brought out a warm glow from Antonia's complexion and had her head swimming. She was relaxed and content. They were all having a wonderful time talking and laughing. Antonia almost forgot she was only in a towel, wrapped at her chest. All the laughing unraveled it and let her beautiful breasts out in full view. Linda and Anabelle smiled at each other, silently agreeing to get Antonia out of her towel completely.
Linda set her glass down and daringly leaned in to kiss Antonia right in the middle of her laughter. It was brash and unexpected, but Antonia immediately got excited. She turned towards Anabelle, who also leaned in to kiss her. Linda caressed Antonia's breasts as they kissed, guiding her back further towards Anabelle. Linda kissed down Antonia's chest and sucked her nipples, while Anabelle turned Antonia's face to hers for a kiss. Linda kissed down Antonia's body and spread her legs over the couch. Her towel fell away, revealing her enticing form.
Antonia was enveloped by desire. Her friends were pleasing her from each end. Anabelle kissed Antonia's neck while Linda ran her tongue around Antonia's pussy, letting her soft red hair tease her inner thighs. Antonia's wetness grew, juices trailing down Linda's chin. Antonia started trembling as Linda licked her clit faster. Linda snaked her fingers inside Antonia's soaked slot and held them still, making Antonia thrust up and down on her hand.
Anabelle was getting so turned on seeing Antonia lose control. She sank her teeth down Antonia's neck and sucked hard enough to leave a bruise, making Antonia moan. The twinge of pain added to her pleasure. The suction of Anabelle's mouth amplified the sensation of Linda's tongue. She held on to Anabelle's head and arched her back in delight, coming hard all over Linda's mouth and fingers. It had been so long since she'd climaxed, and her whole body shuddered in pleasure from the much-needed release.
Antonia leaned in and kissed Linda deeply while unwrapping her robe. She turned to Anabelle and pulled down her tiny shorts. Antonia sat them both on the couch and took turns kissing them and fondling their breasts. She knelt and trailed her tongue up Anabelle's thigh, while circling her fingers over Linda's pussy. She flicked her tongue up and down Anabelle's clit and inserted her fingers inside her. Linda turned to Anabelle and kissed her as she moaned into her mouth.
Antonia sat up to kiss them both, her fingers squeezing inside each of their slots. She sucked on Anabelle's big breasts, making her back arch. Linda held Antonia's wrist closer, aiming her fingers precisely where she wanted them. Anabelle held on to the back of the couch, taking each sweet thrust of Antonia's fingers.
Antonia flicked her fingers faster, hammering both the girls' G-spots at the same time. She could feel their holes constrict, soaking her hands with juice. Linda began circling her clit and reached over to play with Anabelle's pussy with her other hand. Anabelle, then, squeezed two fingers inside Antonia's pussy. Their orgasms peaked, one after the other. The sounds of their melodic moans and squelching wet flesh filled the room as they came hard on each other's hands. It was a beautiful dénouement to their fun-filled day.
After that evening, Antonia blossomed in self-assurance and was no longer bound by the troubles of her previous relationship. She stayed with her friends for some time and got used to their open lifestyle. They started hooking up more frequently, not leaving one corner of the house untouched. Antonia got so used to it, that every hot encounter with her friends became just an ordinary day.
If you enjoy erotic fiction and would like to contribute some of your own, you can email it to fanfiction@metart.com. We don't promise to post it in full, but we will pick out the juiciest bits to share! To see more stories and true confessions, check out our free fiction site, MyErotica.com.
December 14, 2016 - by: Rose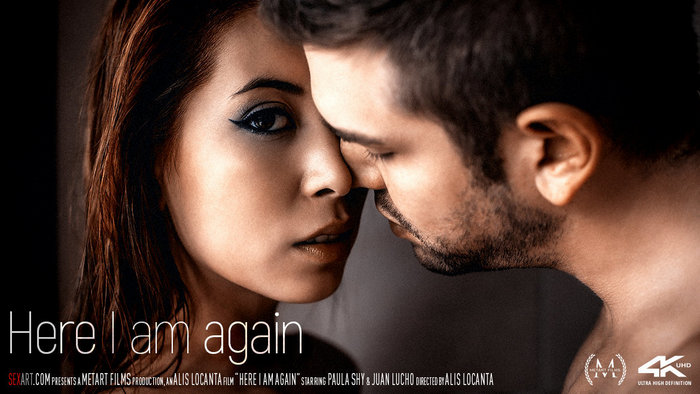 It's been a year since celebrated director Alis Locanta took the helm at our sister site Viv Thomas, reinvigorating the classic lesbian marque with his unique erotic vision. Today heralds Locanta's triumphant return to SexArt with a spectacular boy-girl movie, "Here I Am Again."
Shot in 4K and starring busty Asian beauty Paula Shy, the film employs the groundbreaking auteur's trademark visual flair to full effect, playing with time, location, sound and vision as Paula sucks and fucks Spanish stud Juan Lucho's huge cock with energy and passion.
Next week brings the release of another new movie from Locanta, "Last Chance," which introduces stunning French fox Clea Gaultier to SexArt. The elegant babe looks sensational in sexy lingerie and stockings as she sucks Joel Tomas voraciously and rides him in multiple positions, the lyrical soundtrack giving way to graphic noises of sexual pleasure.
Locanta's mastery of erotica has never been more in evidence, as he manages to convey physical and emotional heat on a grand scale through intimate vignettes. It's powerful, it's Art, and it's most certainly Sex at its most visceral. Prepare to be aroused…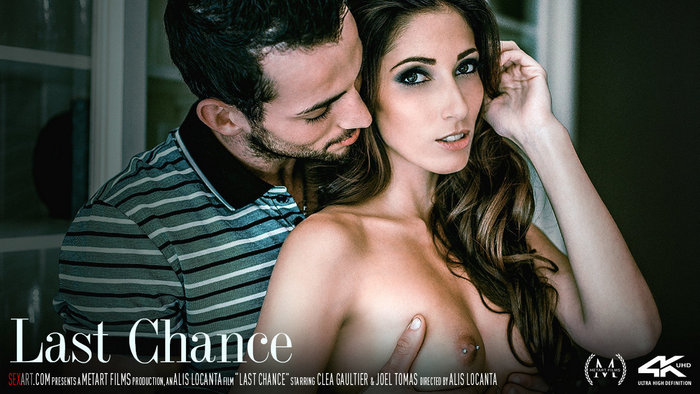 December 07, 2016 - by: Rose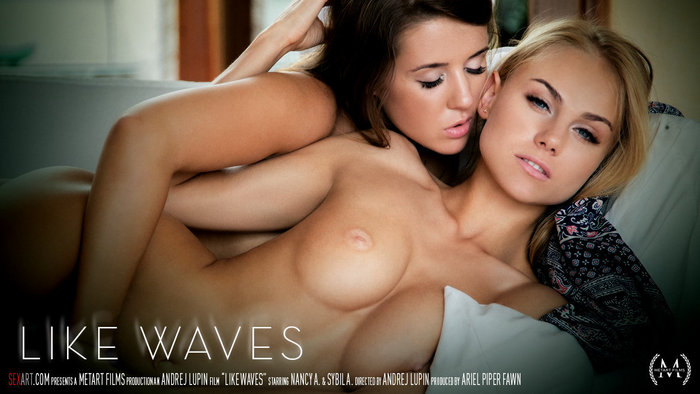 2016 has been an amazing year for SexArt, pushing the boundaries of erotica with some creative, daring and highly arousing movies to stimulate and delight you. So, what was the best film of the year? It's wholly subjective, of course; each of us has our own unique preferences and turn-ons, so although we can all agree that SexArt's models are the cream of the crop, a glance at our 'Top Rated Movies' may reflect or radically differ from your favorites list.
With that in mind, I thought I'd share a spontaneous selection from my must-see list for 2016. Have I included your choices? What should I add to the list, and why?
The girl-girl movie that really blew my mind was "Consultant," starring busty Brit babe Samantha Bentley (of "Game of Thrones" fame) and Asian sweetheart Paula Shy. Samantha plays a sex therapist taking a very hands-on approach as she teaches Paula some of the finer points of lesbian seduction. The sex is stellar, but it's Samantha's verbal instruction that makes this one of the most memorable experiences of the year.
It wouldn't be SexArt without our sexy superstar Tracy Lindsay, and the blonde bombshell made no less than six sizzling appearances this year. It's hard to pick the best when Tracy brings such incredible heat and passion to everything she does, but my personal favorite would have to be "Market" with Margot A because of the sensational postlude over the closing credits which catches the girls surreptitiously continuing their liaison after shooting has wrapped!
I'd also include "Like Waves" – gorgeous Nancy A and Sybil A both making their SexArt movie debut in sensual style – and "Autumn," which kicked off the year with the most authentic depiction of genuine lesbian sex I think I've ever seen, in my elite selection.
When it comes to boy-girl movies, I feel equally spoiled for choice. "Bicycle Race" makes me feel happy as well as horny for the voracious way ever-smiling sweetie Taylor Sands takes on two well-hung guys. She's so adorable, clearly having the best fun of her life as she sucks and fucks her way to a string of orgasms while still looking cuter than a basket of kittens!
In total contrast, "Wall," from director Andrej Lupin's acclaimed "Art" collection, has busty Kira Queen playing kinky power games with a submissive but virile stud, restraining him as she rides his stiff cock and uses him as her own personal fuck toy. It's unsettling, provocative and very exciting.
Two beautiful recent portrayals of genuine sexual chemistry, "The Port" starring stunning redhead Michelle H and "Couple" featuring lovely Nancy A, also rate deservedly high scores; and for sheer athleticism, "Long Way" shows a gorgeous couple at the height of their sexual prowess and too horny to even make it to the bedroom, fucking like there's no tomorrow!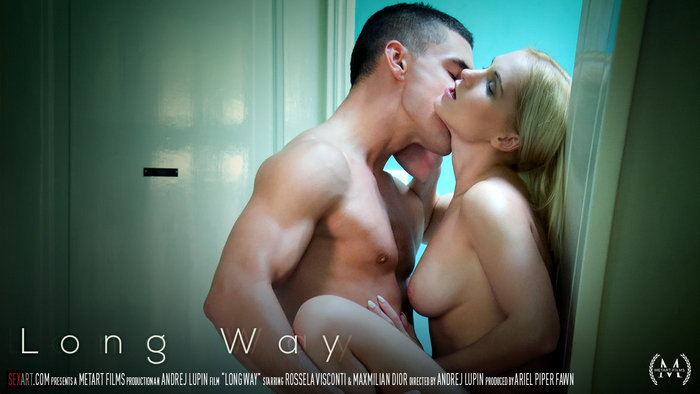 "Week" is possibly the most exceptional movie of 2016, marrying directorial brilliance with incandescent sex in a totally unique fashion. The action spans mutual masturbation, girl-girl, boy-girl and threeway encounters in an intriguing and blissfully satisfying way that blends scorching sexuality and cinematic flair. To explain any further would be to spoil the pleasure of discovering this gem for yourself, so if you haven't seen it yet, do yourself a favor and check it out!
It may surprise you to learn that the top rated movie of the year, at the time of writing, is not actually a boy-girl or a girl-girl movie, but a solo. It's far less surprising, however, once you know that Don Caravaggio's astounding "Olas de Placer" stars our most popular model, irresistible Lorena B. The vivacious brunette looks better than ever as she lavishes an enormous dildo with oral attention before jamming it deep into her luscious pussy and riding it with an energy and verve that is once seen, never forgotten!
I'm going to be greedy though, and choose a series, not an individual movie, as my pick of the year. And what a series it is! "Bittersweet Tale" is a five-part series from Andrej Lupin that follows the exploits of a spoiled and beautiful rich bitch, Anna Rose, as she dominates and abuses her staff to get her sexual kicks. Anna spanks and roughly uses her maid Cristal Caitlin, and demands a hard fucking from the studly pool boy Maxmilian Dior; but the members of the household also divert themselves from Anna's psychological torment with other more pleasurable pursuits. It's a funny, at times shocking and always compelling story, packed with super-hot sex and superb characterisations – and Anna is so damn sexy you'll find yourself wishing to be on the receiving end of her vicious behavior!
So, did I pick your favorite?
And let's not forget, the year isn't quite over yet… next week marks the welcome return of director Alis Locanta, who has been busy on our sister site Viv Thomas for the past year. With such a talented array of production teams on board, and some absolutely stunning new models already lined up for new year movie shoots, I'm excited to see what 2017 brings for SexArt!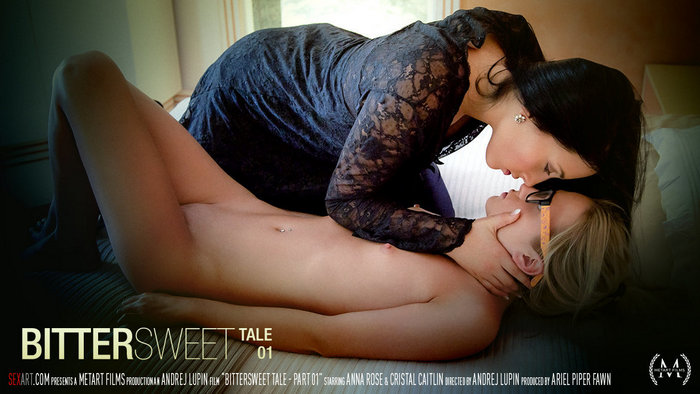 18 U.S.C. 2257 Record-Keeping Requirements Compliance Statement.

Warning - This site contains adult material of a sexual nature - you must be of legal age in your area to view this material.
All materials on sexart.com, are copyright © 2019 sexart.com. All models were at least 18 years of age when photographed.
0.17.0 c958d3