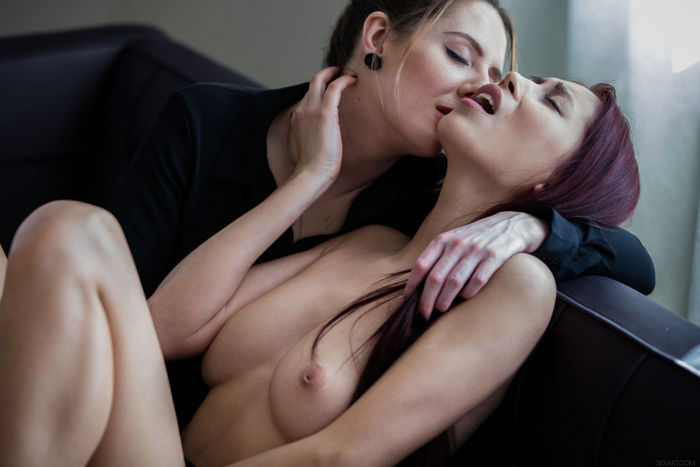 Something that crops up frequently in comments from members is how much you enjoy hearing the performers communicate with each other during sex. Whether it's little moans and whimpers of approval or full-on directions, the verbal exchange between the participants adds an extra dimension to their chemistry and makes the sex more authentic and relatable.
So it comes as no surprise that Andrej Lupin's recent movie "Consultant" was a big hit, with sex therapist Samantha Bentley giving a professional but highly graphic description of the action, as she talks her increasingly self-assured client through the finer points of fingering, pussy eating and face-sitting. As one member commented, "People talk during sex... they ask for things, they give directions, they ask for and give feedback, they talk dirty to each other, etc. If erotica is supposed to be (at least in part) a reflection of real sex and not only idealized sex, then it should include dialogue."
In my experience, women are usually pretty comfortable with giving each other directions during sex. If you want your pussy eaten right, you really do have to give some clues, as everyone responds differently and so what works for your lady lover may not feel so great to you. Even if it's just, "Harder… slower… a little to the left… oh yeah, right there!" you will save yourself an awful lot of frustration if you give feedback, so long as it's done in a positive way.
I have to confess though, what really turns me on like crazy is men giving me orders in the bedroom (although they'd better not try it anywhere else!). It instantly awakens my submissive side, and I can even pinpoint exactly where that particular little kink originated. I was only about 19 and had hooked up with a very well-endowed guy; I was sitting on the edge of the bed with his crotch in front of my face, wondering if it was even possible to get his whole cock in my mouth when he told me: "Suck it." So… I did. That simple command, given in a low growl, made me obey without question; if I close my eyes I can still hear it to this day, and the memory still makes me hot. His very vocal expressions of approval as I followed his instructions were the icing on the cake and left me with a lifelong love of giving blowjobs, taking sexual orders, and dirty talk in general.
Some people feel shy about voicing what they want, and if you are a little inhibited, start small – trying to string together a whole sentence in your head if you're feeling awkward can take you out of the zone. "When I do sexuality workshops, the word 'yes' is consistently one of people's favorite words," says Ruth Neustifter, Ph.D., author of "The Nice Girl's Guide to Talking Dirty." Giving feedback about your own arousal – "I'm so turned on," "That feels amazing," "I'm about to come," is another way to give your partner positive feedback. If you're comfortable with that, asking for what you want – "It feels so incredible when you touch me there," "It drives me wild when you…" is a gentle way to give directions. Of course if you're confident and you know your partner is into it too, you can take it to a whole new level with requests, orders and demands, conveyed in as graphic terms as you wish… and that's the point at which you'll be guaranteed my full attention and compliance.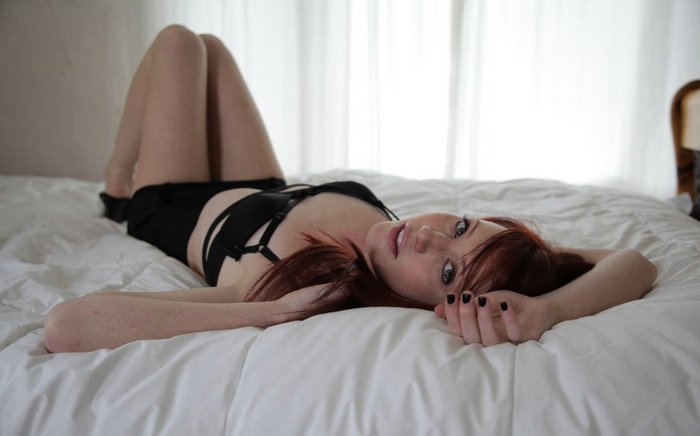 If you, like me, are aurally and verbally inclined, I know you'll be happy with a new handful of movies coming over the next few weeks – a long-overdue addition to our acclaimed "Girls Love Sex" series, directed by legendary SexArt auteur Bo Llanberris and starring some of his most popular models. It kicks off on Sunday with delicious redhead Elle Alexandra, who is refreshingly upfront when it comes to talking about what turns her on. Watching her get herself off with the sound of her sexy voice still in my ears certainly worked for me. I haven't seen the whole series yet, and I can't wait to discover whether any of the girls get really graphic… I live in hope.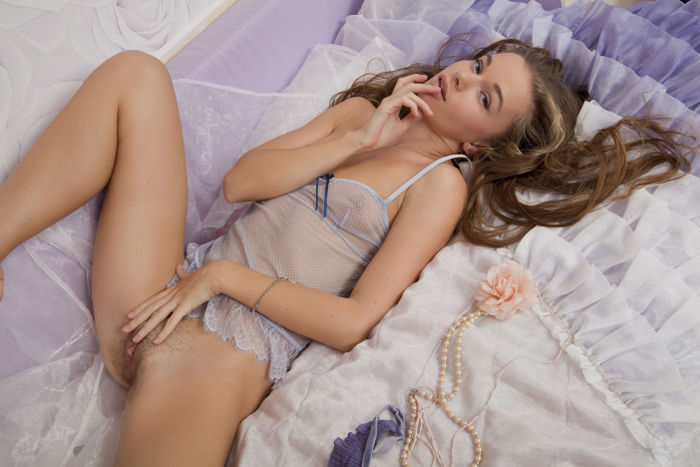 Ukrainian cutie Milena D is something of a superstar here at SexArt, with 32 photo galleries (including several very seductive girl-girl scenarios) published at the time of writing – and she's still just hitting her prime. She made her debut on our sister site MetArt in 2010 at the age of 18, and since then this adorable little sex kitten has enthralled members across the network with her unique combination of naughtiness and angelic looks. Her hair plays a starring role in her photosets – both the wavy hair on her head that reaches right down to her peachy bottom, and the luxuriant bush she sometimes sports to delight fans of all-natural beauty.
Milena attracts high praise –one SexArt member aptly describes her as: "The most beautiful model in the world. Maybe in the history of the world! And her cuteness is just off the charts!" – and she is the inspiration for an erotic fiction series on this blog (the latest instalment was published on April 19th), as well as countless torrid fantasies. Now here's the chance to get to know one of our top models a little better…
Milena, please tell us about yourself.
M: I am 24 years old, and I was born and brought up in Kiev, the greenest city in Europe, where many nations and cultures magically intertwine. Since I was little, even before I started school, I have really enjoyed embroidery and knitting. I graduated from music school, I played piano and accordion and successfully participated in city competitions among musicians, receiving first place awards. All these things were and still are my hobbies. It's my way of meditating. I've got a forest cat at home, a couple of years ago I had nine cats.
What inspired you to get into nude modeling?
M: I like doing new things, experiencing something new for myself. In 2010 one of these new things was nude modeling. Being a model means working on yourself, it's a challenge for your body and your emotions. Girls that did dancing or gymnastics before are used to that sort of thing, but for me it was completely new.
What is your favorite thing about your appearance?
M: Everything. Really. However my appearance changes, I still like it.
How do you keep in such good shape?
M: I walk around naked at home, I watch what I eat, I go to nude beaches, this makes me stay in shape at all times. Also I walk a lot, around 15 km a day sometimes, and I really like swimming.
How would you describe your personality?
M: If you were to define my personality by type – I am sanguine. Sometimes I experience very strong emotions (passion, joy, sadness) but all in all my personality is quite peaceful and cheerful. I can control myself.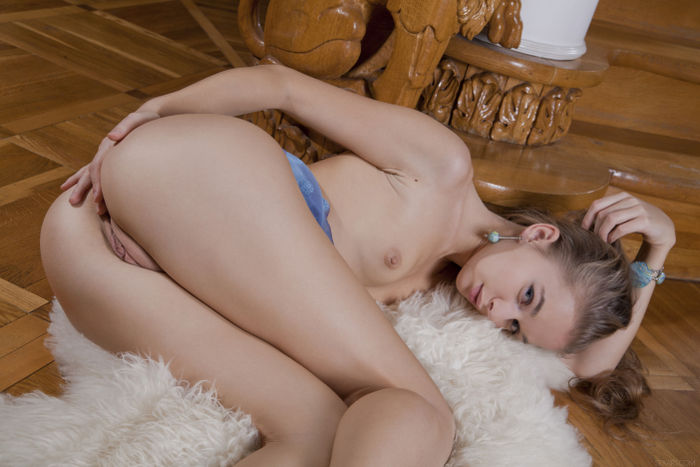 Are you a romantic person?
M: A romantic is someone who opposes society, has a lifelong struggle with their environment. No, I'm not a romantic person, I prefer harmony and I practice it in everything and with everyone who is close to me. To make the world a more beautiful place you need to take a realistic look at things.
Are you an exhibitionist?
M: I think so. However, sometimes I get shy and I probably would not be able to go around the city naked.
Who do you prefer – men or women?
M: Of course I prefer men – however beautiful a girl is in life or in bed, for me a woman can never beat a man.
What kind of men do you like?
M: I like men who are confident, imperious but at the same time sensitive, with a good understanding of the female psyche. I like them to be courageous and brave, like the Gods from legends. It's ideal if this is all combined in one person.
Where do you prefer to meet people?
M: I used to meet a lot of people at the beach, in cafes and many other places. These were just friendly encounters, with no after-stories. I've never seen any of these people again. That's why I prefer to meet people online and keep our relationship going there (my twitter account is @MilenaAngel). This gives us the opportunity to always keep in touch, no matter where we live, we can follow each other's successes and feel the support in various situations. For me, it's very important to feel that my friends are always there for me, in spite of thousands of kilometers between us.
Do you believe in open relationships?
M: I think it's quite hard to passionately love several people at the same time. It's possible when it's done in turns.
What are your ambitions?
M: The role of women in the world is to carry the beauty, to create warmth and harmony around them. Fill the heart with love. The world needs to dream about beautiful things, to see the natural beauty and to improve itself by being inspired. Every day before going to bed, I ask myself, has someone become happier today because of me? And if the answer is yes, then I go to sleep peacefully.
Is there anything else you would like to tell your fans?
M: Dream big and enjoy this life. Explore the possibilities and inspire others with your accomplishments. Life is beautiful and this is exactly what I want to convey to you with my creativity.
Erotic fiction by Noel and Rose, inspired by Frida and Candy Sweet.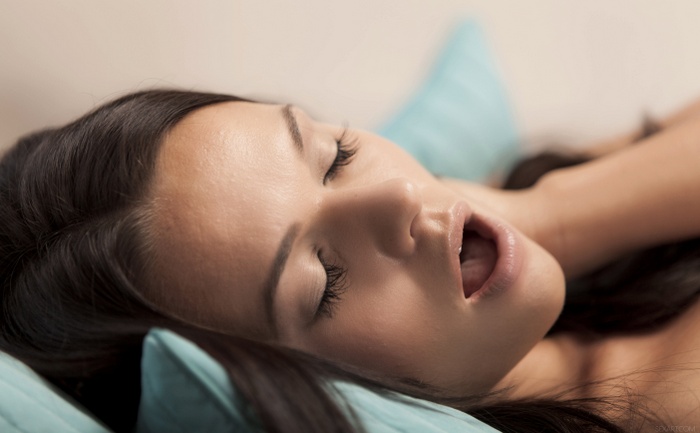 Late one afternoon, Frida was over at her best friend Candy's house when they decided to go down to the cellar to look for some wine. The space was piled high with all kinds of random clutter, and the girls opened a bottle and took unladylike slugs from it as they started browsing through the mess. Frida found a shoebox in the corner that was full of old photos and letters. She showed it to Candy, who was really curious about the contents, so they sat together in a tattered armchair to look through it.
The letters were from two different couples. One batch was correspondence between Candy's grandparents, and it was very sweet and tender. The other letters were something else altogether, though. They were signed only with initials, and they were very hot and steamy indeed. As the girls read them, they realized the lovers were not a man and a woman, as they had initially presumed, but two women.
Frida could feel herself blushing as Candy read out the letters to her. Suddenly her shorts felt a bit too tight, the way they were pressing against her crotch, and her nipples were hard. She tried to control her breathing so Candy wouldn't see that she was getting turned on… but she noticed her friend's cheeks were also flushed, and there was a tremor in her voice as she read the juiciest passages.
"Imagine what it would have been like to be lesbian lovers in those days," Candy giggled. "All that sneaking around, how exciting it must have been. How daring!"
"True," mused Frida. "It must have been a very brave thing to make a pass at another girl. Not like today, we're all so open minded."
"Are we?" Candy said, suddenly very serious. "I mean, are you? Have you ever tried kissing another girl?"
"You know I haven't," said Frida. They really were best friends and told each other everything. As she spoke, she couldn't stop looking at Candy's lips though. They were so pretty. Acting on impulse, she leaned in and kissed her friend. It started as an innocent, gentle meeting of lips, but somehow it turned into something more. She felt Candy's lips yielding, parting to let her tongue slip between them. Their arms wrapped around each other, breasts pressed together as they kissed and kissed, the heat between them growing until Frida felt overwhelmed, and pulled away with a shaky laugh.
She gazed into her girlfriend's eyes, the unspoken question, 'What just happened?' passing between them. Candy's eyes were dark with lust, and as Frida studied her, she seemed to make a decision. Slowly and deliberately, she pulled her flimsy top over her head, leaving her half naked. Frida had always been aware her bestie had a beautiful figure, but seeing her like this, so stirred up with arousal, was a turn-on she had never imagined.
Involuntarily, Frida's hands moved to Candy's breasts, stroking and squeezing. Her lips went back to Candy's for a moment and then moved down, nuzzling her neck and sucking a red mark there, before traveling down across her collarbone to her breast. She sucked Candy's nipple hard, eliciting a series of gasps and wriggles before moving to the other. She became dimly aware that she had one of her heels pressed against her crotch, and was rocking against it. She'd had no idea kissing another girl could be so exciting.
She broke out of her trancelike state when Candy unbuttoned her shorts and slid her hand inside, raising an eyebrow as if asking permission to continue. Frida nodded, feeling a swell of arousal, and then a shock of pleasure as Candy's fingers slid along the slick indent between her pussy lips. She was so wet and creamy she almost felt embarrassed, but Candy's smile as she ran her fingers up and down over her clit was enough to make her lose whatever inhibitions she had left. Wriggling out of her shorts hurriedly, she spread her legs wide so her best friend could push two fingers right inside her hot pussy. With Candy's thumb working busily on her clit as she finger fucked her, she already felt close to the edge.
She groaned with frustration as Candy took her hand away; but as her girlfriend rapidly removed her shorts and panties and straddled her in a 69, any conscious thought was lost. She had never seen another girl's naked pussy so close up before, and it looked beautiful, with juice seeping out between the tight pink folds. Experimentally, she ran a finger along it and Candy shivered with pleasure.
Holding Candy's hips, Frida pulled her down until that pretty clam was right there above her face, so pink and inviting. And reaching out her tongue, she took her first taste of pussy…
Many thanks to our member, Noel, for co-writing this story with me. If you enjoy erotic fiction and would like to contribute some of your own, you can email it to me at fanfiction@metart.com. I don't promise to post it in full, but I will pick out the juiciest bits to share!
18 U.S.C. 2257 Record-Keeping Requirements Compliance Statement.

Warning - This site contains adult material of a sexual nature - you must be of legal age in your area to view this material.
All materials on sexart.com, are copyright © 2019 sexart.com. All models were at least 18 years of age when photographed.
0.17.0 c958d3