September 25, 2014 - by: Rose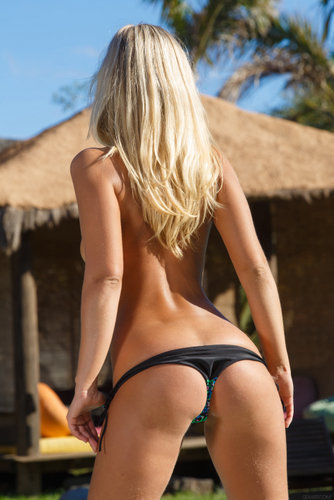 For me, the pinnacle of erotic photography is when a lovely girl is captured outdoors, her sun-burnished skin glistening and her beauty in harmony with the natural setting. One of the things that drew me to SexArt was the abundance of stunning alfresco photosets. More rare, but even more precious, are movies shot outdoors. The technical demands are overwhelming, but the results are so rewarding. Some of my favorite movies are beach idyll 'Horizont' (starring Ariel Piper Fawn and Lorena – what a combination!), and 'Waiting For Rain,' with its backdrop of the verdant Czech countryside. Andrej Lupin's latest full-length movie for VivThomas.com, 'Domestic Desire,' is on track to be my film of the year, with three of its four superb scenes shot under the blazing Mediterranean sun. You can read more about it at http://blog.vivthomas.com/domestic-desire-suzie-carina-dominates/
So, what's so great about alfresco sex? I think it must be the heightened sensations – the sun beating down on bare skin, the caress of the breeze, the different textures of grass, sand – even snow, if you're feeling brave! There is also a sense of liberation, and of being at one with your more primal, animal spirit. Whether you're pressed up against the rough bark of a tree, can feel the ocean lapping around your toes, or are getting drenched by a rain shower, you are profoundly aware of your surroundings. And that exquisite arousal extends to your sexual senses too, so you feel every touch, every tremor of pleasure, as if it were greatly magnified.
One of the most sublime experiences of my life was while on vacation in Switzerland. When a pretty tour guide who had befriended me offered to show me how the locals liked to have fun, I didn't realize quite what she had in mind! Lying on a bed of soft grass, gazing at the most spectacular mountain view as she ate my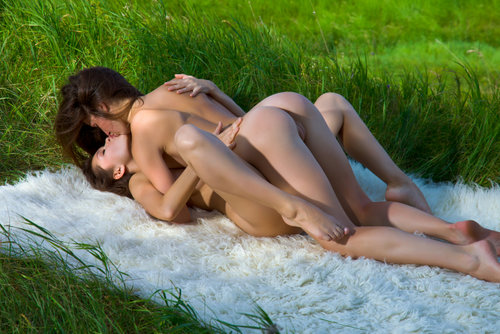 pussy, I felt giddy with arousal and awe at the beauty that surrounded me. It was a sensual overload: bright blue sky and vibrant green grass, the majestic mountains and chocolate-box prettiness of the little houses scattered around, the sun kissing my naked skin, and the insistent pressure of her tongue coaxing me to orgasm. It's one of my most erotic memories, and one I masturbate to whenever the chilly weather keeps me indoors for too long.
Not everything about outdoor sex is idyllic, though. The reality of friction burns from sand, sunburn (or frostbite!) and insect bites can soon drive you indoors if you're not completely carried away by lust. Seawater quickly washes away lubrication, and of course there's the ever-present risk of getting caught if you're in a public place. Still, even a secluded spot in your own backyard can give you a taste of the thrill that comes from tapping in to your natural urges and indulging in a little alfresco fun.
How about you? Have you experienced the excitement of outdoor sex – and how did it feel? Is there anywhere you've always wanted to try? Do tell!
September 12, 2014 - by: Rose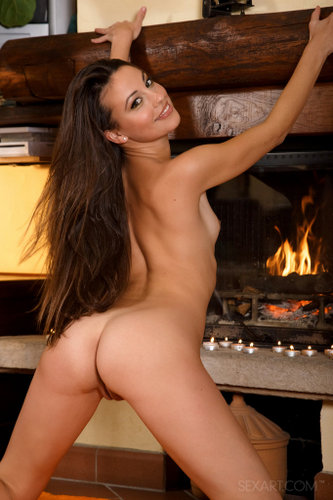 I first came across Lorena (take that as literally as you like) when Viv Thomas shot her for a girl-girl movie called 'Club Pink Velvet 3' – she had two outdoor scenes, and looked spectacular soaking wet. The crew and the other models were all raving about this incredible Spanish girl with the come-to-bed eyes and the sexy accent. I was totally bowled over by her natural beauty and charm – the behind the scenes interview revealed how cute and funny she was (you can see a little snippet in this post http://blog.vivthomas.com/lorena-garcia-from-spain/ ). Soon after, Viv's team wrote an entire five-scene movie –'Hotel Eden,' the story of a summer love affair – for Lorena and Whitney Conroy.
Naturally I wanted to see more of her, and I was thrilled to discover such a treasure trove of delicious photosets and movies here at SexArt. I've been enjoying exploring them every since. Lorena has it all – beautiful face, adorable personality, and perfect body. I love everything about her, but here are three of my favorite things:
1. Her smile. Lorena's always smiling, except when her head is thrown back in ecstasy. She brings playfulness, flirtation and a sense of fun to every scene she appears in. For example, check out how she flirts with Sylvie Deluxe at the start of 'Spanish Lesson.' It would take more willpower than I possess to resist that megawatt smile!
2. Her bottom. Lorena's curvy rear sets the gold standard for the perfect bum. It's not too big, not too small, but firm and curvy, and it makes me want to grab it! 'Anapneo,' a photoset by Don Caravaggio, shows it off to its full advantage. It doesn't hurt that when she bends over you get a view not only of that peachy rear, but if you're lucky a glimpse of her plump pussy lips too. It's an inviting sight.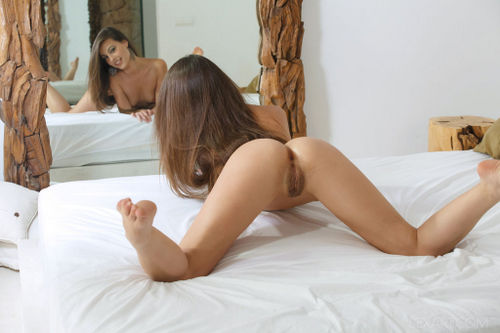 3. Her enthusiasm for lesbian sex. Lorena is an energetic and vigorous lover. Some gorgeous girls think it's enough to simply lie back and be worshipped, but Lorena never wastes an opportunity to give her partner an orgasm, or to have one herself. 'Be Mine' is possibly my favorite scene of hers, because Tess matches her in heat and intensity. Lorena isn't a prissy girl who wants to stay pristine, and seeing her beautiful long hair stuck to her back with sweat as she rides Tess hard is highly arousing!
So, those are my favorite things about Lorena. What are yours?
September 01, 2014 - by: Rose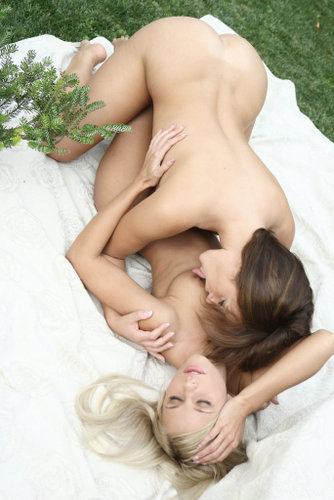 Lesbians have more orgasms than straight or bisexual women. That's the conclusion of a recent study published in the Journal of Sexual Medicine. Researchers at the Kinsey Institute used an internet questionnaire to gather data from over 6,000 single men and women in the US. Results showed that lesbians reached orgasm 75% of the time during sex with a familiar partner, compared to 62% for heterosexual women and 58% for bisexual women. Researchers suggested this could be due to lesbians being 'more comfortable and familiar with the female body and thus…better able to induce orgasm in their female partners.'
In theory, there is something to this. If you've already been practising on your own body, then it should be easier to figure out how to do the same thing to another girl, right? Well, not necessarily. In my opinion, women's bodies are like snowflakes – each one is totally unique. You may be an awesome lover who has built up a repertoire of mind-blowing techniques, but that doesn't mean you will automatically discover what makes your lady friend reach ecstasy. It takes a little exploration and experimentation – so maybe lesbians are just a little more persistent when it comes to trying things out, or a little more insistent about getting their kicks?
One possible reason why lesbians may have more orgasms was suggested by the study's authors: 'length of the sexual encounter.' Since women are generally multi-orgasmic and men are generally not, if you put two hot babes together for any length of time it would seem that the average number of orgasms is likely to increase, as they can just keep going and going to exhaustion!
I guess I am bucking the trend, because as a bisexual girl, many of my very best – and most easily reached – orgasms have been with a guy. There's something about a hard cock that no fingers, tongue or vibrator can ever beat. But I find myself more and more drawn to women these days, so it's fair to say I have been putting in plenty of practice at both giving and receiving orgasms. There's nothing quite like seeing my partner's pretty face totally blissed out to make me feel like a tigress between the sheets.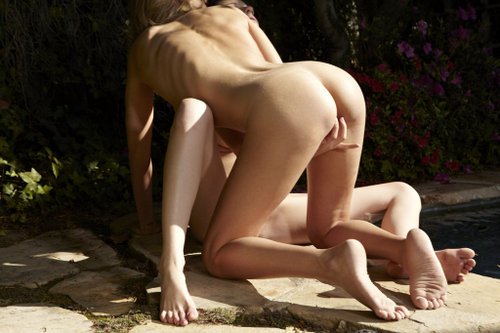 I'll freely admit that many of my best pussy-pleasing moves have been learned from watching movies. My first experience of lesbian porn was literally mind-blowing, and as I gradually discovered there were beautiful, artistic movies out there that made me feel inspired and seductive as well as horny, my confidence in my ability to give pleasure grew. But I still feel like I'm learning new things all the time – that's one of the reason I love watching SexArt movies (aside from the fact that they turn me on!). For example, in 'Rear Window' I like the way Whitney starts licking Tess just at the very top point of her clit, and does that for ages before she touches her pussy anywhere else. I tried that with a girlfriend last night and the results were pretty explosive!
I'm curious to know what you think. Once you can make a woman orgasm (yourself included, if you're female!) is it the same every time? Are there certain tricks that always work their magic – drawing figure-of-eights with your tongue on her clit, that kind of thing? Or is it always different? I'd love to hear about it!
18 U.S.C. 2257 Record-Keeping Requirements Compliance Statement.

Warning - This site contains adult material of a sexual nature - you must be of legal age in your area to view this material.
All materials on sexart.com, are copyright © 2019 sexart.com. All models were at least 18 years of age when photographed.
0.17.0 c958d3