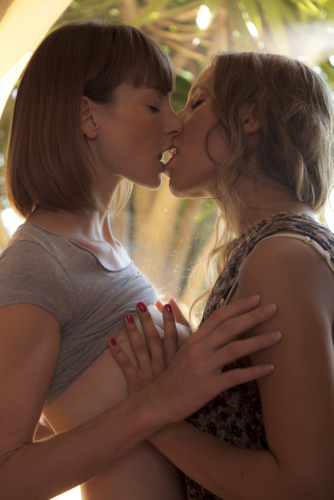 Agatha looks like a European fashion model. With her sharp angles, striking green eyes and stylish flame-red hair, the Italian beauty exudes natural sexuality and palpable confidence in her physical presence.
How fitting, then, for director Alis Locanta to allow Agatha the opportunity to explore her sexuality on camera by capturing her first lesbian liaison. "My First" finds Agatha almost overwhelmed with anticipation as pretty blonde Whitney Conroy introduces her to this brand new experience. Whitney – all soft curves and sweetness – makes the most delicious contrast to Agatha. The two together are in perfect harmony.
Agatha's initial stillness melts away and she responds with avid kisses as Whitney's gentle touch stirs her arousal. It's an exceptionally charged moment as she leans back to gaze into Whitney's eyes, and then pulls her close to kiss her again. Whitney seems utterly lust-struck as she slides Agatha's panties down to reveal her tempting smooth-shaven pussy. The sight encourages her to take off her dress, revealing her fabulous round, squeezable bottom framed to perfection by a lacy G-string.
The new lovers move to the bed, and Agatha is eager to fully experience these fresh sensations. Naked, she spreads her legs to allow Whitney to slip a couple of fingers inside her pussy. Her body undulates, riding the waves of pleasure coursing through her as Whitney licks her, pausing every so often to suck on her clit and stroke it with sticky fingers. Whitney builds the pressure, her fingers moving faster and harder; then glances up to enjoy the sight of Agatha experiencing her first orgasm at the hands of another girl.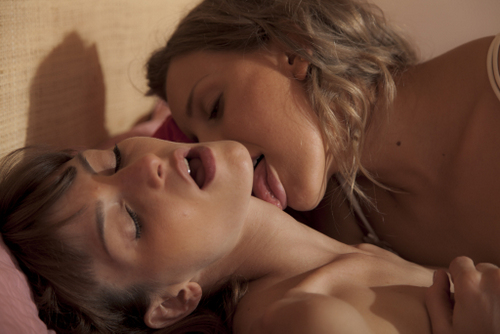 Naturally Agatha wants to know what it feels like to give another girl sexual pleasure too. Although inexperienced, she responds instinctively to Whitney's signs of arousal, feasting on her soft, sweet body and savouring every moment. Whitney is soon lost in the ecstatic storm of sensation that engulfs her.
The visually stunning epilogue to the scene suggests that Agatha's lesbian awakening has truly begun. Although Whitney's blonde prettiness is usually more to my taste, I found myself enthralled by Agatha's raw sexuality and willingness to expose herself to the camera's gaze. There's a sense that this is just the first step on a new path towards self-exploration and sexual fulfilment for her – and it feels like a privilege to have witnessed this private moment.
I've just had the opportunity to screen a nearly-finished rough cut of Alis Locanta's latest Sexart project, "Waltz with Me." The film comprises four separate chapters — Autumn, Winter, Spring, and Summer — and each episode will be released sequentially in the near future.
As I write, Alis Locanta has 76 films in his Sexart portfolio, so there's no question that he's a prolific and productive artist. And he also has a particularly fertile imagination. His body of work encompasses a wide range of themes and approaches, and, despite his rapid production schedule, he never repeats himself. Let me qualify that: Even when he repeats himself — as with the original, 2-part "The Writer" starring Lorena B, and the more recent, 10-episode "The Writer" series starring Luna — he brings something completely fresh and new to each project.
Locanta is also an exceptionally versatile artist. He can take the absolute simplest form of erotic film — single girl masturbation — and create impressively complex and compelling works of erotic art. "About a Girl," starring Agatha, and Luna's Sexart debut, "Just the Beginning," are two fine examples of the form, and, they're both entirely different.
At the other extreme, elaborate, long-form narratives are a Locanta strong suit. Crafting a compelling story and engaging an audience over several hours of combined run time isn't easy — but Locanta and his gifted cast and crew did exactly that with "The Writer," and it raised the bar for erotic cinema, not only at Sexart, but for the industry, at large.
"Waltz with Me" falls somewhere between those two extremes. It's far more complex than a simple single-girl feature, but is not nearly as complicated and densely plotted as "The Writer."
It strikes me that the four episodes of "Waltz with Me" are less like chapters in a story, than they are stanzas in a poem or verses in a song. Here a free-flowing visual style does much of the "narrating" and details are conveyed by non-verbal means, most notably the changing of the seasons.
Make no mistake, while "Waltz with Me" boasts a lyrical and engaging cinematic style, it is also a profoundly erotic experience and contains scene after scene of super-heated sexual activity.
The entire series takes place in a spacious, airy, loft apartment. In "Chapter 1" a couple — Alexis Brill and Franck Franco — are moving in to this, their new home together. They paint, they decorate, they kiss, they play, and they make love. In each subsequent chapter Brill and Franco become more settled in the space, and their love flourishes. I don't want to spoil the thrill of discovery for the viewer, but I will tell you this: "Chapter 1" is the only scene in the series that features a two-person sex scene.
Locanta directed Alexis Brill and Franck Franco in their debut appearances at Sexart ("Angel" and "Turning Point," respectively), and he's worked with each of them in subsequent features. Both are gifted and appealing performers and the relationships built up over time — actor with actor, actors with director — result in genuine on-screen chemistry. Behind the scenes footage appended to the end of each chapter only reinforces this impression — these people enjoy each other and love working (and playing) — on camera or off.
The technical/stylistic element that unifies all four chapters of "Waltz with Me" is what might be thought of as "theater in the round, in reverse." As can be seen in the epilog segments, Locanta's crew has constructed a track on which a dolly-mounted camera circles the performers. So, rather than a stationary audience viewing a performance on a central stage, we have a camera in near-constant motion circling the "stage" as the action unfolds.
Viewed individually, the separate chapters of "Waltz with Me" are fully realized, engaging, and visually inventive stand-alone films. Viewed as a set, the four episodes of "Waltz with Me" combine to create a truly impressive and extremely entertaining work of erotic cinema — this is one of those instances when the whole is even greater than the sum of its splendid parts.
"Waltz with Me" premieres in just a couple of days. The dance is about to begin, and you do not want to sit this one out.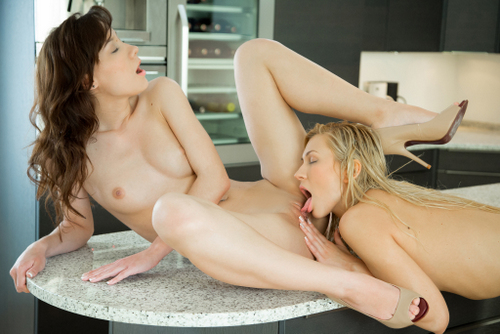 The acquisition of VivThomas.com by the MetArt Network heralds a new era of groundbreaking erotica for the renowned brand. MetArt are committed to honoring the vision of innovative auteur Viv Thomas, and to that end are taking the brand to new heights with the release of a stunning new movie, "Sexpresso."
The outstanding artistry of director Andrej Lupin puts you right there in the middle of the action; and the sex, shot on location in Portugal, is visually beautiful but also natural and very real. Rising star Tracy Lindsay is the ideal girl to launch the new dawn of VivThomas.com movies. She perfectly embodies the ideals of natural beauty and unabashed sexuality.
As "Sexpresso" starts, we discover that Tracy loves her coffee – but not as much as she loves spending time with desirable women. Her seductive manner ensures that she gets her fill of pleasure whenever she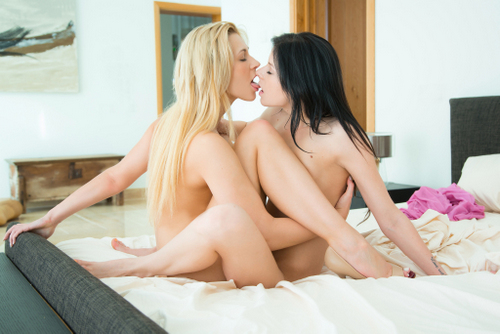 craves it. The story unfolds with pretty Aiko Bell paying a visit to Tracy as she enjoys her coffee. Immediately, attraction is in the air; Aiko is a little shy at first, but Tracy's insistent kisses soon warm her up. The flirtatious smiles the pair exchange hint at an intimate connection, and their sensual kisses, captured in luscious close-up, bear a promise of rapture to come. Tracy's clever fingers know exactly how to hit Aiko's sweet spot as she caresses her through her panties, and then slides her hand inside to feel the wetness.
Tracy is dominant at times, slapping Aiko's ass and handling her roughly, but she's also a sensitive and intuitive lover who makes Aiko gasp and moan with pleasure. Her fingers are a blur as she drives Aiko to a frenetic orgasm. Then she sits astride Aiko's face so she can enjoy the sensations of Aiko's tongue exploring her delectable pussy. Her orgasm has her whole body quaking with bliss.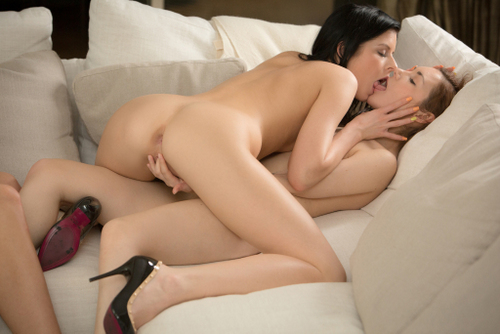 Later, Tracy looks irresistible in a hot pink robe as she teases pretty Daniella Rose with the froth from her cappuccino. Her perfect bottom in the air, she straddles her lover, before Daniella flips her onto her back so she can suck on her stiff nipples. The couple seem delighted with each other's beauty and sexuality as they kiss and touch. Tracy grabs Daniella's hand to work the fingers harder and faster in her pussy, rubbing her own clit in a frenzy of lust as she approaches orgasm. Then her teasing tongue-strokes on Daniella's clit reveal how completely she controls her lover's response. The pleasure of tasting Daniella, and licking her pretty ass, has her rubbing her own sticky honeypot at the same time. The pair move into a scissors position, grinding on each other, their juices mingling as they climax in unison.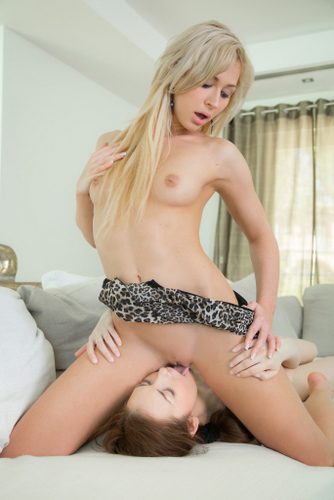 The following day, Tracy asks Daniella to invite her cute friend over for coffee. After a little small talk, she asks Stacy Snake whether she's ever had sex with a girl. The answer is no, but the little sweetie is ready to let Daniella seduce her. Tracy watches avidly, sipping her coffee, as her girlfriends get better acquainted. Stacy's hesitation turns to desire as Daniella kisses and caresses her, leading her along the path from curiosity to arousal, and then all the way to sweet ecstasy. Then Daniella teaches Stacy exactly how she likes to be touched, and the adorable neophyte finds she has a natural talent for giving as well as receiving lesbian pleasure.
Daniella leaves Stacy alone with Tracy so she can continue to explore her newly awakened sexuality. Stacy looks a little overwhelmed at the idea of having sex with such a goddess, but the touch of Tracy's soft lips soon has her convinced to revel in the experience. Tracy is hungry for sensation after watching her girlfriends make love, and it only takes moments for her to bring Stacy to climax again. After she's drawn out the pleasure to a string of orgasms, Tracy lets her new girlfriend get a taste of her sweetness, and finds that the novice is a quick learner. Tracy jiggles her world-class ass up to meet the strokes as Stacy licks her ass and fingers her to an earthshattering climax.
"Sexpresso" is a proud declaration that VivThomas.com is ready to rock your world with a new wave of sensational lesbian erotica. Prepare to enjoy the ride!
18 U.S.C. 2257 Record-Keeping Requirements Compliance Statement.

Warning - This site contains adult material of a sexual nature - you must be of legal age in your area to view this material.
All materials on sexart.com, are copyright © 2019 sexart.com. All models were at least 18 years of age when photographed.
0.17.0 c958d3