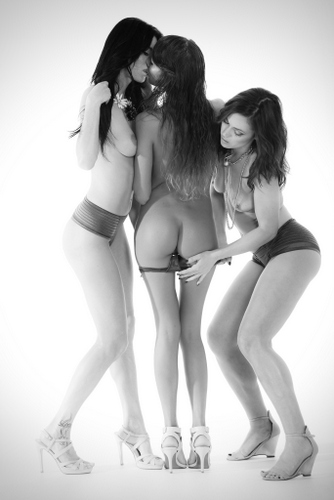 Fashion models are the new rock stars – sexy, charismatic and alluring, but always just out of reach. They tease, but never quite reveal their most intimate moments... until now. "Haute Couture" is a unique movie project that brings us three incredible girls, beautiful enough to be fashion models, and confident enough to let us witness their sexuality in full flow. Three stunning, color-themed scenes capture each in turn talking and getting ready on set, before they are let loose to express their physical desires in intimate detail. The climactic scene brings the trio together to take their budding friendship to another level.
Director Alis Locanta explains: "Haute Couture is a different project compared to my previous films. Let's forget my personal 'cine eye' because Haute Couture is a tribute to the fashion television reporting world. There's no fiction, there's no faking; here you are going to see a real fashion shooting day. Models arrive in the morning, they have coffee, meet the crew and start the make-up session. You are going to get to know them better, thanks to a personal interview. Then let's go to the fitting room to put on their color-themed outfit. The shooting style and language is pretty different to a classic film: you'll think you are looking at a fashion TV channel."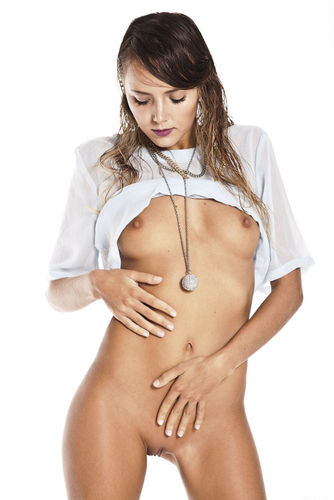 The individual color themes are a distinctive element of "Haute Couture" that give it a unique and unforgettable flavor. For those who understand the technical expertise required to create such an adventurous piece of work, Locanta reveals some artistic secrets: "Haute Couture is the very first 4K MA project. All the footage you are going to see has been shot on red cameras (one red, one red scarlet and one red epic) at 4K resolution with different frame rates (23,98fps and 96fps). The real power of this workflow is not the extremely high resolution, but the RAW codec: all the footage was post-produced on a RED CINE-X workstation to obtain a high quality color correction. So… no more H264 codec!"
The girls of "Haute Couture"
Of course, the most important element of "Haute Couture" is the girls who bring this vision to life. Each has her own personal style and sensuality to share.
Baby Blue: Mango. This Russian beauty has incredible long legs, pert breasts and an adorably pretty face. She looks every inch the fashion diva in her sheer, nipple-skimming top and tight panties that showcase her perfect bottom. Overcome by erotic feelings, her fingers wander down into her baby blue panties to explore her sweet pussy. She seems utterly lost in the act of self-love, the camera forgotten as she masturbates. It's a wonderful moment when she finally turns her shapely bottom towards us and lets us watch her slide a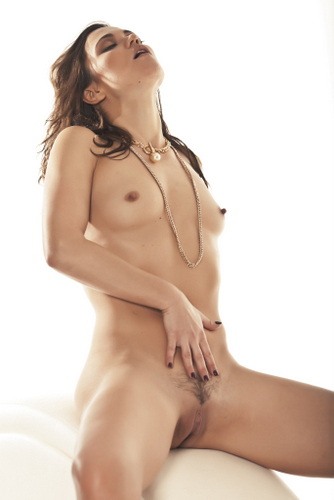 finger deep inside her pussy. She pauses to taste herself from her fingers, then continues. Her legs are visibly shaking, her body trembling as she reaches her orgasm.
Yellow: Alyssa Reece. Canadian firebrand Alyssa is a force of nature – one of those rare girls who brings a feeling of raw energy to everything she does. Here, the soft yellow of her pretty lingerie brings out the delicious olive tones of her skin. Alyssa is lively and charming on set, but as she focuses inward and begins to touch herself, everything else seems to just melt away. You feel every gasp, every tingle of arousal, every tremor of unstoppable pleasure, as she stimulates herself. When she orgasms, it's so powerful you'll swear the earth moved.
Pink: Margot. A gorgeous Czech girl with the looks of a pure Irish farm colleeen – all freckles and raven hair and natural freshness – Margot is a treat to be savored. She enjoys caressing the sumptuous curves of her breasts, teasing the nipples to stiffness, delighting in every shiver of sensation. The pink panties come off and her coltish long legs are spread wide for us to admire that pretty pussy as it gets pinker and wetter. There's no mistaking her mounting excitement as she strokes and fingers herself to new heights of pleasure.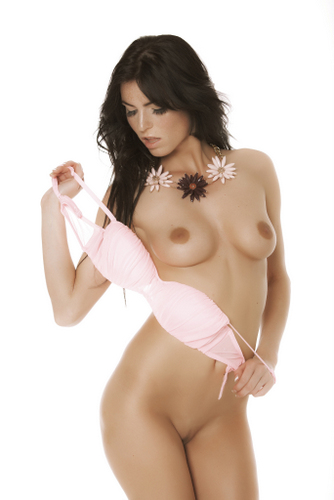 Black and white: Mango, Alyssa Reece and Margot. It's breathtaking as the trio of fashion starlets come together for the climax of the series. You see them having fun together before shooting begins, the sparks of attraction already flying. Then the procession of three perfect bottoms in tiny tight panties making their way onto set is quite something to behold. A rear view like Mango's deserves to be worshipped and that's precisely what follows, her amorous partners kneeling to adore her. The music is hypnotic, the mood potent with lust as Alyssa begins to lick Mango's smooth, sweet sex. Later we witness Mango sucking hungrily on Alyssa's nipples as she and Margo join in pleasuring their new friend. Alyssa's hips buck frantically as she orgasms; and she's a greedy girl when it comes to sex, she can never settle for just one climax! Once she's caught her breath, Margo's wonderful natural breasts become the focus of her attention, while Mango uses her saliva-slick fingers and questing tongue to explore between Margo's thighs. The sensory overload has Margo shaking and gasping in utter abandon. The scene builds to a crescendo of mutual ecstasy, all three girls sexually satiated.
"Haute Couture" will be released on SexArt over the next four weeks. I think it occupies that exceptional space where powerful sex meets erotic art. I'd love to hear what you think about the concept, the style, and of course, the girls!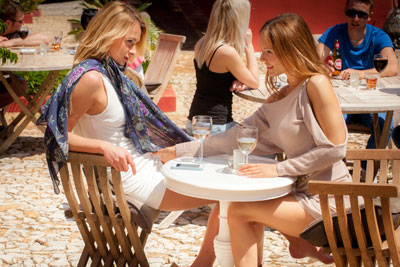 Real sex. Isn't that what we all really want to see? Genuine heat, passion and chemistry that allows us to share the sensation of every look and smile, every touch and caress. Andrej Lupin's new erotic movie for SexArt,
Cafe
, delivers a powerful sense of this heightened sexual connection. I felt tingles down my spine as the two beautiful stars,
Ivana Sugar
and
Sabrina Moore
, began their gentle flirtation.
Seemingly casual chat leads to sexually charged smiles, and more intimate touching and stroking. As elegant brunette Sabrina's fingers caress Ivana's thigh, there is no doubting her intention. A whispered invitation from Ivana encourages her to go further...
Cafe: the public liaison leads to private pleasure-giving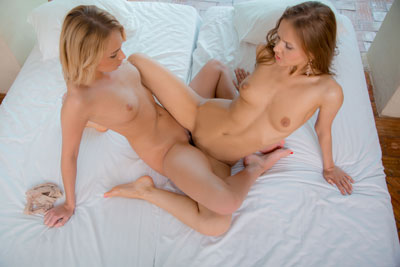 It's been said that kissing is the most intimate act of all. It certainly reveals how much two girls truly desire each other. Once behind closed doors, the flirtatious games between the two beauties give way to a more urgent expression of mutual lust. Ivana is so aroused that as Sabrina begins to lick and suck her perfect breasts, she is almost overcome by the waves of sensation. Her gasps dissolve into giggles of pure pleasure, leaving you in no doubt that you are watching something utterly genuine. For me, it's one of the most special moments of the movie.
Those two delicious bodies are pressed together as the girls continue their exploration of each other. By the time the panties come off, the anticipation is almost unbearable. Then the gentleness falls away as we get to see what a firebrand Ivana is in bed, and how skilfully Sabrina makes her hover at the brink of orgasm. The vigorous scissoring brings the pair to an ecstatic mutual climax.
With every nuance so perfectly captured, Cafe arouses strong sensations of shared pleasure. It's one of my must-see erotic movies of the year so far.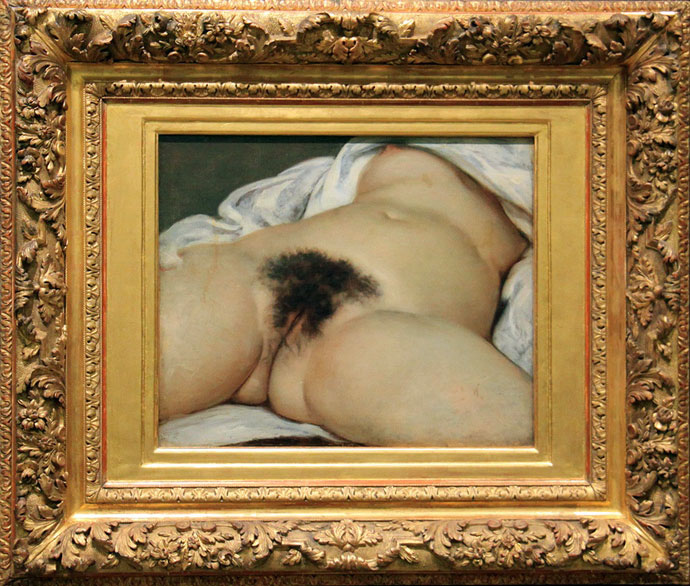 It has been famously stated that "Life imitates art." But what happens when art imitates art? Or, more specifically in this case, what happens when performance art imitates art?
That was the question implicit in a controversial art performance staged at the Musée d'Orsay in Paris by Luxembourg-based artist Deborah De Robertis on May 29th, 2014.
De Robertis, barefoot and wearing a gold sequin dress, walked calmly into a gallery in the museum. She approached a display of Gustave Courbet's "L'origine du monde" (The Origin of the World), sat down on the floor with her back to the painting, hiked up her dress, spread her legs, and displayed her vagina to the numerous museum visitors in the gallery.
The Courbet oil on canvas painting that inspired the artist's eye-opening performance piece is a frank and realistic view of a woman in repose, naked from the breasts down, her vagina exposed, central in the image.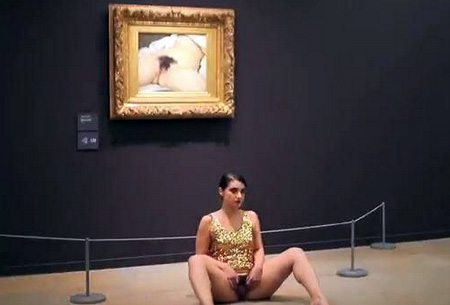 De Robertis, relaxed and straight-faced throughout, held her pose as spectators applauded and took cell phone pictures. Museum employees were less enthusiastic about the performance, however, and they unsuccessfully attempted to convince the artist to cease and desist before attempting to usher the numerous — still applauding — spectators out of the gallery.
Ultimately, De Robertis was placed under arrest for indecent exposure and escorted from the museum by police. Prosecutors, however, once they'd determined the artist's concept and intent, declined to press charges and De Robertis was released.
On that day in May Deborah De Robertis created a piece of performance art that was, on the surface, simple and straight-forward, if provocative. But the superficial simplicity hides layers of nuance and complexity. Additionally, the piece, like any successful work of art, invites contemplation and interpretation. And it raises questions, the most important of which may be: Why is a painting of a vagina considered a masterpiece, but the display of an actual vagina is considered a crime?
18 U.S.C. 2257 Record-Keeping Requirements Compliance Statement.

Warning - This site contains adult material of a sexual nature - you must be of legal age in your area to view this material.
All materials on sexart.com, are copyright © 2019 sexart.com. All models were at least 18 years of age when photographed.
0.17.0 c958d3