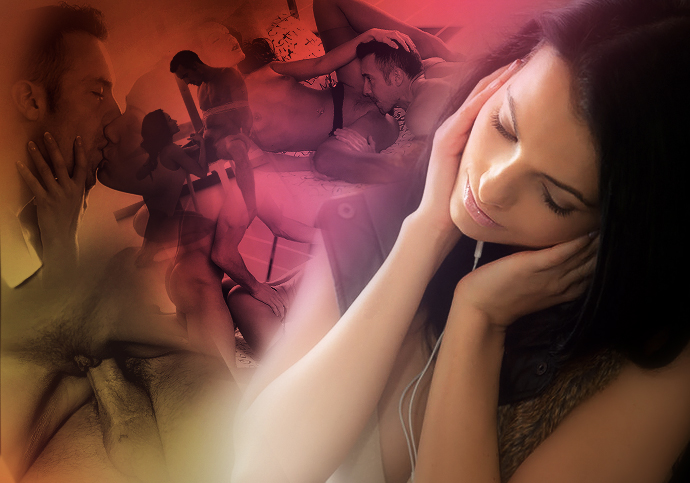 That's the question Sigmund Freud was unable to answer even after thirty years of research into the feminine soul. And it's been asked countless times — but never adequately answered — throughout human history. Whether it's during courtship, in the course of a relationship, within the bonds of matrimony, or after a break-up or divorce, men have pondered the question endlessly. And today, with rapidly advancing technology and ever-deepening scientific understanding of how the human brain functions, this timeless question still remains unsolved.

I won't try to answer the broad question here, either. But I would like to narrow the focus of the enquiry and rephrase it:
What does a woman want from Sexart, and from erotica in general?
From cave paintings to Internet porn, erotica — graphic representations of sexual activity — has existed throughout human history. In modern times — let's say since the invention of photography — its growth has been exponential. Cultural evolution and technological innovation have only expanded erotica's reach and its audience.
And generally, with notable exceptions, graphic erotica has been produced and consumed predominantly by men.
The sexual revolution of the sixties, the era of "porno chic" inspired by the release of "Deep Throat" in 1972, the advent of XXX home video, the Internet, and the mainstream success of blockbuster best seller "Fifty Shades of Grey," have all been factors in the "mainstreaming" of erotica, and in the expansion of the female audience. But porn is still mainly created by men for a predominantly male audience.
But the female audience is evolving and expanding, and society is changing, as well. The creators of Sexart had these facts very much in mind when the were developing the site. Creating content that would appeal to and satisfy the needs of women was a fundamental goal of Sexart. The female orgasm — something of an afterthought in most XXX product — would be emphasized, honored, and celebrated by Sexart.
Sexart's emphasis on and attention to the female perspective is one of the key factors that separates, elevates, and differentiates the site from the so-called competition. And anticipating the female audience's needs and desires is one of the challenges Sexart deals with as it strives to create entertainment for an audience of discriminating women and men.
I'll ask the title question once more, but this time I'll address specific aspects of erotica and erotic entertainment. Also note that I'm addressing these questions specifically to female Sexart members, but that relevant comments from males are welcome.
How do you think women and men differ in their appreciation of erotic entertainment?
Gonzo and POV porn — no plot/all raw sex — seem like very male genres. How do women feel about them?
Elaborate, involving stories, complex plots, romance, drama, and intrigue seem — at least according to the conventional wisdom — like things that would appeal to women. How much story does an X-rated movie need to appeal to a female sensibility? A little? A lot? None at all?
If "hard-core" is male...is "soft-core" more female-friendly? How graphic is too graphic? Do women want to see it all? Or would they prefer that the more explicit bits be left to the imagination?
If you were a single woman looking for erotica, would the erotica you viewed be different than the erotica you'd choose to view with a partner in a relationship?
If you're in a relationship, is the erotica you view as a couple chosen by you, or by your partner?
What is "gross" and what is "hot"?
Is there anything you've see in mainstream erotica that was a total turn-off?
Do you think that men and women are turned on by the same things — can they both equally enjoy the same film, at the same time, in the same way?
As a woman, do you prefer to view erotica by yourself or with a partner(s)?
What types of situations/themes/stories would you like to see in Sexart HD erotic feature films?
As a female consumer of erotica, how could Sexart better satisfy your erotic entertainment needs and desires?
I look forward to reading your answers, thoughts, and general theories in the comments, below.
18 U.S.C. 2257 Record-Keeping Requirements Compliance Statement.

Warning - This site contains adult material of a sexual nature - you must be of legal age in your area to view this material.
All materials on sexart.com, are copyright © 2019 sexart.com. All models were at least 18 years of age when photographed.
0.15.0 469a89