February 25, 2014 - by: Adam

Rabbit's Reviews is one of the biggest and most respected adult entertainment review sites in the world. For five years running they've evaluated erotic sites in a broad range of categories, ultimately awarding their coveted RISE Award to the very best of the best. Last year Sexart won the Best New Site in the RISE Awards. This year Sexart scored another, perhaps even more impressive, RISE Awards victory when it was declared Oscar Quality Porn site of 2014.
A statement issued by the RISE Awards judges explained the rationale for their choice: "[Sexart] really puts into practice what it sets out to do — and that is to marry sex and art...[Sexart] continues to produce scenes that are more engrossing than many movies and television shows. Featuring narratives that only add to the sex instead of detracting from it, you could have their scenes playing on a television without anyone noticing (well, until the sex starts)...This award honors the sites that put in the extra time and effort to craft compelling pornography and Sexart does that in spades."
The owners, operators, and artists at Sexart are, of course, flattered, humbled, and honored to receive this or any other respected award. But this specific RISE Award is particularly significant and satisfying, and the award's title says it all: Sexart is "Oscar Quality Porn."
Sexart Co-Owner and Creative Director Jonathan explains: "Since Sexart launched I've been on a soap box of sorts saying that we're different, we're not like any other site. From the beginning I've been trying to do something completely different. Sexart is about creating a genuine cinematic experience. Not just a better or a different porn experience, but a completely new experience, and that starts with a love of movies, and with a love and respect for the art of cinema."
A lot of ink has been spilled, and a lot of words have been spoken about adult cinema, but the comparison to the ultimate achievement of mainstream movies doesn't come up often, if at all. That's why the RISE Oscar Quality site Award is so meaningful.
Savoring this milestone achievement for Sexart, Jonathan continues: "From the birth of the idea to where Sexart is today, we've come a long, long way. It's still a work in progress, we're not there yet, but it feels so good that we are getting that critical recognition and getting people to actually recognize that what I've been saying all along about Sexart is true — we are different! We are blazing our own trail. I don't even look at sites in the so-called 'glam/couples' genre — that's just marketing, a gimmick. With Sexart I'm doing my own thing, staying true to my vision. To win an award for that, for staying true to my original concept, that means so much. And it inspires me to keep pushing the limits, pushing myself, and pushing my creative team to continue making Sexart everything it can be."
February 12, 2014 - by: Adam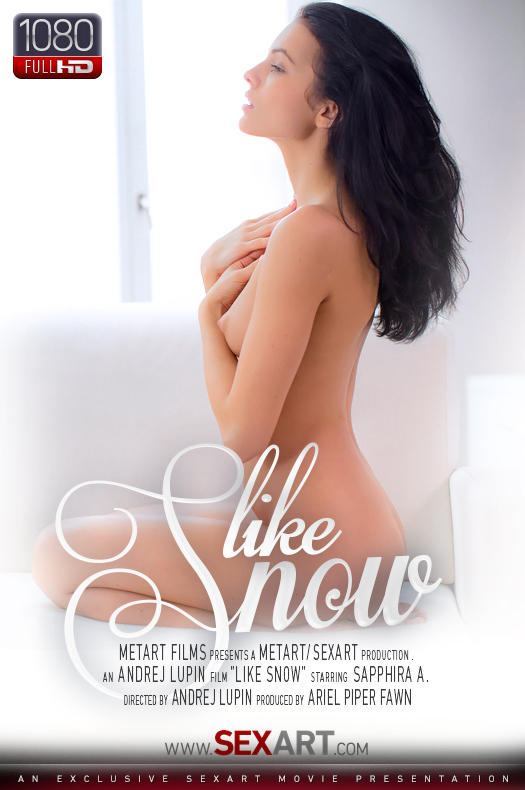 Sapphira is special. I realized that the first time I was lucky enough to lay eyes on her. My second experience with Sapphira, in a Metart HD erotic movie, only confirmed how special she is. By the time I wrote about her a third time she'd been signed to an exclusive contract with the Metart Network, she'd become a full-time resident of topmost tier of Metart's Top Model rankings, and her unique blend of beauty and personality had made her one of the most popular nude models in recent memory.
Sapphira has posed for just one Sexart erotic photo gallery to date, in addition to the ten she's appeared in at Metart. Now this very special talent is making the move to explicit, hard-core erotic cinema, with her first ever Sexart HD erotic movie, "Like Snow." This is a very special event, indeed.
"Like Snow" begins with an extended sequence in which Sapphira strolls through a wintry urban landscape. A thick blanket of snow covers the ground and flakes drift from the cloudy skies and fall to rest on Sapphira's mane of black hair. The mood is subdued, quiet, and Sapphira seems to savor and reflect on the beauty of these moments.
After the titles roll Sapphira is indoors, and the chill of winter quickly fades. Sapphira is still in a thoughtful mood, but the nature of those thoughts has changed. She unbuttons and removes her top revealing the pert perfection of her breasts. Her pants and panties soon follow. Now completely and breathtakingly nude, Sapphira settles onto a roomy, oversized armchair, its white upholstery subtly echoing the snow visible outside in the background. You will have no trouble guessing what happens next — but you will most certainly be grateful it does!
Director Andrej Lupin has done a wonderful job of creating a space for Sapphira to emotionally inhabit. As she begins to explore her body and her sexual desire begins to grow steadily stronger, Sapphira is in a world of her own. The camera is right there with her, close, intimate, but Sapphira isn't performing for us, she's alone with her private thoughts, her most intimate desires, and her body.
And, because this is Sexart, all the delicious details of that body are lovingly and explicitly captured with fluid, unobtrusive cinematography that's entirely appropriate to the mood and pace of the film. By the very act of satisfying herself, Sapphira A has delivered an impressive feature debut that will leave the viewer both satisfied and hungering for more.
Beyond its explicit and beautiful imagery, "Like Snow" also reveals aspects of Sapphira's personality her fans may not have been exposed to previously. And there are more such revelations to look forward to — solo masturbation is only the beginning. I can't say where, when, or with whom, but to answer the inevitable and obvious question: yes, Sapphira will be performing with partners in Sexart erotic features in the future. If you love Sapphira, you're got to love that!
February 08, 2014 - by: Adam
In September of last year the first half of Alis Locanta's two-part movie, "The Writer" was released. I wrote a detailed post about it, and the film, and its follow-up, generated considerable interest, acclaim, as well as high member ratings.
In the months since "The Writer" was released Alis Locanta has produced a diverse and varied collection of erotic films for Sexart. But the premise of "The Writer" continued to circulate and percolate in the artist's creative subconscious. The original film's themes — fiction versus fact, the blurred line separating fantasy from reality, and the power of imagination and creativity — were rich in potential and possibility. Too rich, it was decided, for just a two-part film. And that's when the idea of a multi-part, extended, "The Writer" series was born.
But the new series wouldn't simply be an extended, episodic version of the original film. Sequels certainly have their place in the cinematic marketplace, but the director and his team of scenarists had something far bigger, more complex, and more rewarding in mind. First, they gave the idea plenty of room to develop, grow and evolve — ten episodes in total. And not just ten episodes — each installment would be longer, more complex, and contain far more sex.
How much longer and how much more sex? "The Writer — Brave New World" is over 37 minutes long. And it contains four fully realized sex scenes, plus numerous erotic interludes. And the nine future installments will run between 30 and 40 minutes and have similar amounts of action. That's a big, big jump. But it's all part of the growth and development of Sexart.
As Jonathan, Sexart Executive Producer, recently explained to me: "This is really the next step in the evolution of Sexart. This series is moving us closer to my original vision for the site. I'd like to take all the eroticism of the best adult films and move in the direction of the best independent filmmaking. That's the goal, and this series is a big move towards that goal."
Having just screened the first episode of the series, "The Writer — Brave New World," I can only agree. I have enjoyed — and will continue to enjoy — the "typical" Sexart HD erotic feature, which "typically" consists of a single sexual encounter spread over 15 to 20 or so minutes. But "The Writer — Brave New World" is in an entirely different class. There is a lot of complexity to the narrative, a lot of stunning and intriguing imagery, and a lot of sex.
And there are a lot of impressive performances, as well. Luna brings her smoldering sensuality to the title role, Whitney Conroy adds heat and intrigue, Franck Franco does double duty as Luna's boyfriend and fictional character in the story she's writing, and Lindsey Olsen makes her Sexart debut with no fewer than three sex scenes.
During a brief — and rare — lull in his schedule, I had an opportunity to conduct a short interview with Alis Locanta about "The Writer" series specifically, and his approach to erotic filmmaking, in general:
Q: What was your inspiration for "The Writer" series?
A: That's a good question and my answer could be very long! When I started thinking about this subject, I did want to tell a story based on a complex and agitated character. It helped me a lot for writing different scenes, set in many locations, each with a specific mood. I also wanted to put in this project many different filming styles. I do love an "indie/guerrilla shooting style," but since I was producing thirty to forty-five minute episodes there were some technical solutions that couldn't be too present. That's why I mixed dolly movements with hand-held shooting, or point of view stuff with GoPro ultra-wide frames. Some episodes are more romantic, some others are more dramatic. I put a few "sinister elements" as well. In the end, I could say "The Writer" is a real "indierotic movie."
Q: Have you always wanted to make erotic films?
A: Ohhh…what can I say? It's a hard job, but someone has to do it! To be honest, though, no. Not because I didn't like this idea, but I couldn't imagine to have the chance to shoot adult films with an extremely high quality level. I was never interested in making low budget erotic films. When I was younger it was so difficult to find good erotic movies. I do believe sex is ONLY in the brain and most of the porn production were — and are — based on fucking, fucking and fucking. In my opinion there are many music videos, indie short movies or viral clips that are more erotically exciting than thousands X-rated scenes you can find everywhere.
Q: Why did you pick Sexart as the home for your erotic films?
A: That's the easiest question — because Sexart is unique. I mean, there are a few other sites that produce really good stuff, but they are shooting always the same concept, the same scene, the same situation, the same type of eroticism, over and over. Sexart has a very different and brave idea: shooting erotic/independent/mainstream films. That means I have to think about great plots, writing solid scripts, casting the best models possible and shoot with a real independent cinema crew. I couldn't find this wonderful challenge anywhere but Sexart!
Q: What new stories can Sexart's members expect from Alis Locanta?
A: Even though "The Writer" project took me about four months I've been working on other films and mini-series. I decided to make a tribute to the fashion world and shooting a hybrid concept between videos and [still] pictures. They will be four episodes with three stunning models. It will be my first adult film entirely shot on 4K. A more complex, difficult project is in the works, but for now I don't want to tell many details about it, but I just can say "everything will turn like a waltz." Stay tuned!
"The Writer — Brave New World" is a big step for Sexart, a major accomplishment for Alis Locanta, as well as an impressive start to a compelling new, must-see erotic series.
18 U.S.C. 2257 Record-Keeping Requirements Compliance Statement.

Warning - This site contains adult material of a sexual nature - you must be of legal age in your area to view this material.
All materials on sexart.com, are copyright © 2019 sexart.com. All models were at least 18 years of age when photographed.
0.17.0 c958d3