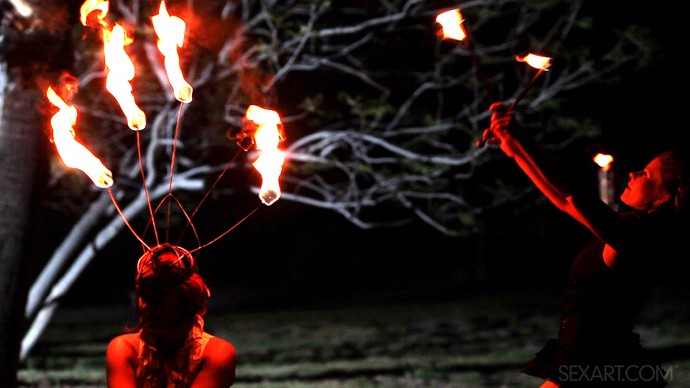 It's a familiar and popular expression — when an unexpected twist or complication arises in a narrative an observer or participant often says "the plot thickens." I've been thinking about "plot thickeners" and plots in general, after doing a bit of reading and research about women and porn — specifically, what do women look for in erotic entertainment?
When I first got involved with erotica on a professional basis the conventional wisdom was that men were "visual" and that women were "cerebral." All that men needed to become aroused was a glimpse of something sexy, a picture, a movie, a primitive drawing scrawled on the wall of a cave, and his libido kicked into high gear. But women were different. A blurry Polaroid picture wasn't enough. She needed atmosphere, ambiance, detailed narratives, and an engaging plot before her sexual juices could be induced to flow.
But time marches on. And yesterday's conventional wisdom may not still apply today. Pornography has undergone a massive transformation over the last several decades. We've moved from illicit "Tijuana Bibles," the so-called "eight-pagers," crudely illustrated, explicit comic books, up through black and white stills processed and printed in home darkrooms, to 8mm loops passed from collector to collector, to "Porno Chic" and the heyday of the adult movie theater, the home video explosion, up through today's universally accessible high definition streaming XXX video.
So it's fair to ask: in the Information Age, are men still "visual" and women still "cerebral," when it comes to erotic entertainment? Has the exponential growth of the XXX industry changed attitudes and appetites in erotica?
The short answer seems to be Yes. And No. The basic visual/cerebral divide still exists. Males simply respond to graphic depictions of sexual activity more powerfully than women do (of course, I'm generalizing). But women do consume porn, and they're consuming more and more with every passing day. And as the female market grows, it also becomes more defined — female consumers' tastes and needs are evolving and becoming more precisely understood.
The growing but underserved — and often misunderstood — female audience was one of the prime motivations for the creation of SexArt, in fact. And the task of creating erotica that appeals to men and women in equal measure is one of the most stimulating and inspiring challenges SexArt's international pool of artisans is faced with.
To complicate matters, in order to create entertainment for a global audience, SexArt's movies tell their stories in a visual, generally non-verbal manner. The storylines, no matter how simple or complex, are shown rather than spoken. Is this "visual" method of plot exposition enough to satisfy the "cerebral" female viewer? Our own market research and the notes and comments provided by female SexArt members indicate that, yes, the SexArt approach — stylish, artistic imagery combined with appealing, evocative, "relatable" narratives — is a success, with female and male viewers, alike.
But what do you think? Would you like to see more (or less) story in SexArt films? More dialog? More elaborate plots? More character development, more back-story, more non-sex interplay? How about costumes, special effects, action, stunts, or exotic locations? I'd particularly like to hear opinions and input from a female perspective, but all members are encouraged to share their thoughts on the subject in the comments, below.
18 U.S.C. 2257 Record-Keeping Requirements Compliance Statement.

Warning - This site contains adult material of a sexual nature - you must be of legal age in your area to view this material.
All materials on sexart.com, are copyright © 2019 sexart.com. All models were at least 18 years of age when photographed.
0.17.0 c958d3