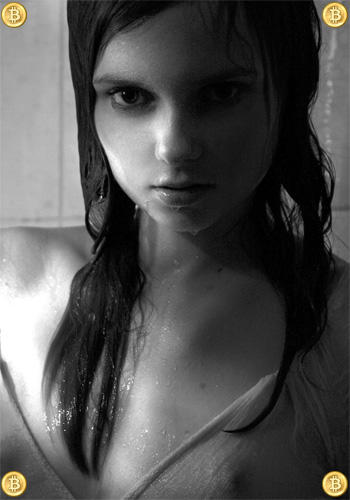 The MetArt story is inextricably connected to the evolution of digital technology. We pioneered the online digital erotic art photography marketplace, and we've embraced every meaningful technological advance — whether it was multi-mega-pixel imagery, HD video, or streaming technologies — in our content as well as in the features and user interface of the site itself. Now that MetArt has grown into the MetArt Network, an expanding family of premium quality erotic sites, our ability to harness and employ the latest technological developments is more important than ever.
It is in this spirit of ongoing technical advancement that the MetArt Network has become the first adult entertainment company to accept the revolutionary digital currency bitcoin.
Bitcoin, the first widely circulated and accepted digital currency, has the potential to completely revolutionize ecommerce on a global level. The MetArt Network made the decision to accept bitcoin for a variety of reasons, but chief among these are the benefits the new payment method offers our members. Bitcoin offers unparalleled levels of anonymity, confidentiality, and protection to the consumer. Customers who would prefer not to use personal bank accounts, checks, or credit or debit cards can now purchase site memberships with the safety and security of digital currency.
While payments in bitcoin provide MetArt Network customers with a secure and convenient alternative payment method, bitcoins also pack a lot of bang for the buck (bang for the bitcoin?) because monthly memberships in all the MetArt Network sites are currently offered at a half-off discount for those who pay with the cryptocurrency. For a newfangled payment method that's old fashioned value.
Whether you choose to purchase your MetArt Network access with bitcoin or any of the other methods offered, MetArt's embrace of the cyber cash proves, once again, the company's dedication to constant and ongoing improvement of our products and commitment to providing the highest level of service to our customers.
18 U.S.C. 2257 Record-Keeping Requirements Compliance Statement.

Warning - This site contains adult material of a sexual nature - you must be of legal age in your area to view this material.
All materials on sexart.com, are copyright © 2019 sexart.com. All models were at least 18 years of age when photographed.
0.17.0 c958d3