January 26, 2013 - by: Adam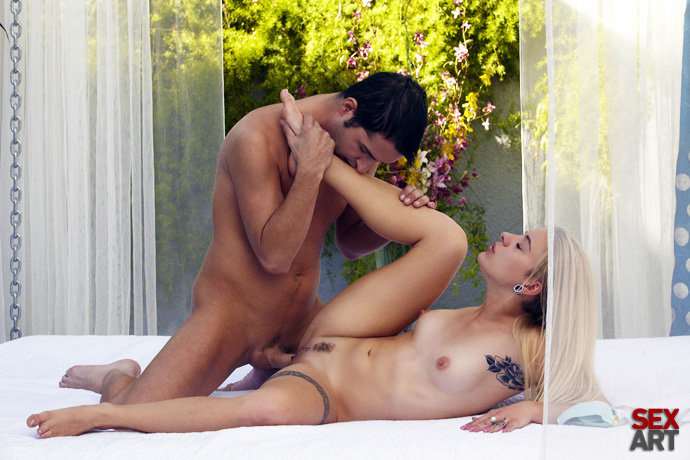 When you read the synopsis that accompanies the latest creation from SexArt director Bo Llanberris you're provided with a brief but vividly detailed bit of backstory. You'll read of a couple separated by both time, distance, and circumstance, and you'll follow along as a man does whatever it takes to be reunited with his beloved. That Llanberris can tell such an evocative tale in words is another feather in this multi-talented artist's cap. And as the film begins we're reminded, yet again, of his signature gift for crafting beautiful and beguiling imagery with a camera.
The opening frames present a single green palm tree and a blooming bush in the middle of a sun-bleached landscape — a striking image in its own right. But the desert sands are subtly and masterfully overlaid with a shimmering layer of undulating water. If I'm reading him right, the author is saying: There is heat in this desert, but there is also life, and beauty.
My interpretation is quickly validated. As our intrepid hero, Kris Slater, crosses the blazing, drifting sands, his lover, Cameron Canada, awaits him in a cool, shady refuge. While waiting she doesn't pace or fret, rather she indulges in what may be a session of quiet meditation, relaxing yoga stretches, and intimate self-massage. Ms. Canada's shapely body not only sports several arresting adornments, but also boasts eye-opening flexibility. When she performs, and holds, dramatic full splits the prospects are tantalizing, indeed.
Reunited at last the couple waste not a moment. Picking up where we can easily imagine they left off, they proceed to pleasure each other with the ease, finesse, and familiarity only long-time lovers can share. They don't rush, and they don't hesitate, they simply savor the sensual delight they give and take from one another. And the camera, as if propelled by a desert breeze, slides, soars, and floats aloft adding to the sense of atmosphere as it artfully captures all their amorous activity. Let your mind and senses take a trip to "Sahara," but be prepared, because it's going to get extremely hot.
January 15, 2013 - by: Adam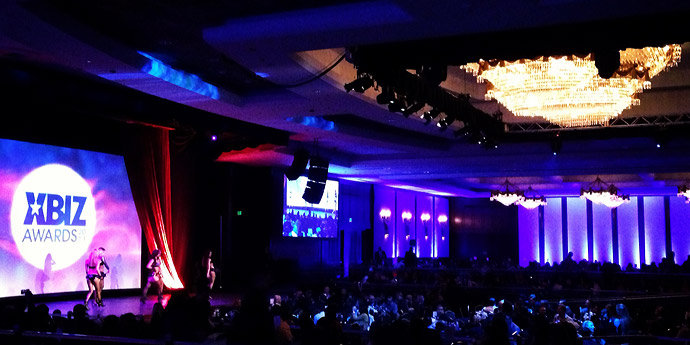 SexArt is pleased to announce that we have been named "Glamcore Site of the Year" at the 2013 XBiz Awards. Considering that SexArt launched in April of 2012 and hasn't even celebrated its first birthday yet, the award is all the more impressive. XBiz is the leading adult industry authority, and provides unequalled news and information about the entire field — from feature films, to online erotica, to technology and sex toys. The XBiz Awards are, quite simply, the biggest and most respected honors in the world of erotic entertainment.
The 2013 XBiz awards were held on January 11, 2013, at the legendary Century Plaza Hotel in Century City, California. The event was hosted by XXX superstar Tera Patrick and the vast ballroom was packed with a veritable galaxy of adult stars and industry movers and shakers. Riley Reid, the star of two SexArt erotic movies, won the "Best New Starlet" award, and also announced SexArt's "Glamcore Site of the Year" award.
SexArt wasn't the only site in the MetArt Network to win at the XBiz Awards. The Free Speech Coalition, the leading adult industry legal advocacy organization, gave MetArt the "Leadership Award" for the company's extensive efforts on behalf of adult industry performers and producers
The award winning success of SexArt is just one part of the MetArt Network story. Recent months have seen a dramatic expansion of the MetArt family of premium erotic art and entertainment websites. RylskyArt.com, a showcase of longtime MetArt photographer Rylsky, was recently launched, and MetArt has also acquired legendary director Michael Ninn's site — including his entire motion picture catalog, as well as highline European studio MagikSex.com, star erotic photographer HollyRandall.com, and industry pioneer ALS.com.
The MetArt Network and SexArt would like to thank XBiz for the "Glamcore Site of the Year" award. The MetArt Network has big plans for the coming year and we hope to be back on the red carpet at the XBiz Awards 2014!
January 07, 2013 - by: Ben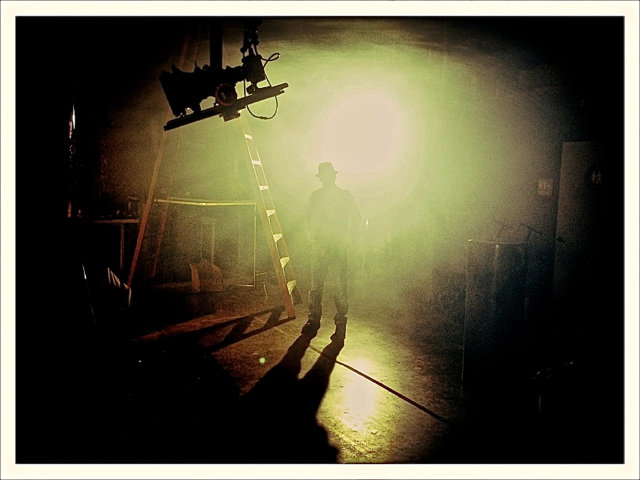 The message that no matter how much we try we cannot control our destiny is the lesson of 2012. If you asked me two years ago what I would be doing for a living, I never would have dreamed that I would be an erotic film director. If someone had said to me two years ago that I would be working with some of the most beautiful women in the world and creating "sex art," I would have laughed and probably said something like, "From your mouth to God's ear." Yet here I am. It's Jan 04, 2013 and as of this date I have over 100 erotic films under my belt, and to my delight and surprise it appears that people like them. I remember the day that I looked up at the sky and said to whatever was up there, "Just let me successful in my chosen field… Filmmaking." …and shortly thereafter I became a successful filmmaker in Adult Erotica. Whatever is up there has a sense of humor.
The journey into adult erotica was and continues to be an interesting one to say the least. Having worked with people like Malena Morgan, Elle Alexandra, Rilee Marks, Presley Hart, Jessie Volt, Jessie Andrews and on and on, you cannot help but walk away a changed man. Some of these women are the most liberated, most erotic, and probably the most intelligent people I have yet to meet. Their view on sexuality is at the very least insightful and unencumbered, which makes them different than most folks, and in many ways more honest. But the biggest surprise came from meeting the male performers. I was expecting to meet a bunch of meat-heads who just wanted to get laid and drive corvettes. Instead, I found good souls, warm smiles, and the same insightful liberation that comes with losing the societal chains of public opinion. Not a corvette in the crowd. These people have become my friends and I can honestly say that am all the better for it.
With all that I gained this year I also lost a few long time friends to the twists and turns of life and progress. Those were moments of great despair, but I became wiser from the loss and gained strength by new opportunities and new horizons. I'm sure this rings a bell with just about everyone who reads this.
Since I have seen and be involved with so much sex this year, I feel I am qualified to present some pretty meaningless awards. So here are some moments that really stood out for me, that I, for no reason, decided to give out awards for:
Best attitude towards sex on set: Charlotte Stokely and Riley Reid.
Sweetest Personality On Set: Cassie Lane
Most Fun Personality On Set: Elle Alexandra
Most Fun Night Filming: "Stepping out" with Malena Morgan, Elle Alexandra and Lexi Bloom
Sexiest Blowjob: Cindy Starfall, "Gypsy Fortune" Lexi Bloom,"My First"
Most Intense Orgasm: Malena Morgan, "Dreamer II" Casey Calvert, "White Room"
Most "in love" Love Scene: Jasmine W, Logan Pierce "The Promise"
Hottest Orgasm: Maddy O'Reilly, "Intensify" (Holy fuck!)
Most Willing To Do Anything I Say For The Art Of It: Katie Jordin, "Sparkman and Chrome Girl"
Most Surprises While Filming: William Corazon, Cindy Starfall, and Marica Hase "Undercover Dangerous 1" (Marica squirted so far it almost hit our camera operator in the face from 15 feet away. No one knew it was coming.)
Funniest Moment In A Film: Elle Alexandra, "Roux" (She was masturbating on the edge of a bathtub filled with water and it broke just as she was hitting orgasm. Water and Elle spilled everywhere.)
Most Artistic Performance in B/G: William Corazon, Giselle Leon,"The Expressionist"
Most Artistic Performance in G/G: Elle Alexandra, Melina Morgan,"Elle Tree"
Coolest Fucking Film I Think I Did: "Fire Dance" Malena Morgan and Jessie Andrews.
Coolest Fucking Film You Think I Did: "Intensify" Maddy O'Reilly, Danny Mountain
I look forward to bringing you more evolved and refined adult entertainment over the next year, and I truly thank you all for becoming members, for your loyalty, your honesty and your support.
Cheers!
Bo Llanberris
18 U.S.C. 2257 Record-Keeping Requirements Compliance Statement.

Warning - This site contains adult material of a sexual nature - you must be of legal age in your area to view this material.
All materials on sexart.com, are copyright © 2019 sexart.com. All models were at least 18 years of age when photographed.
0.15.0 469a89