October 22, 2012 - by: Jon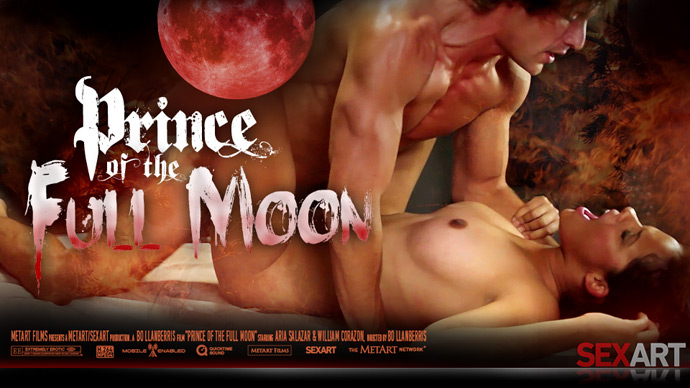 Halloween has always been — despite the candy and kiddies in cute costumes — the most "adult" holiday on the calendar. And the emphasis on the erotic aspects of the holiday has grown dramatically over the last decade. On the night when ghosts, ghouls, goblins, monsters, mutants — and sexy nurses — gather to celebrate, it's worth noting that many of the classic tales of horror, from vampires to werewolves, have a distinctly erotic element. So, in the Halloween spirit, the mad scientists at SexArt have concocted a very special treat.
"Prince of the Full Moon" begins with a voice-over narration that not only establishes the film's premise, it also offers a symbolic tip of the hat to classic horror films of yore, as well as the creature-feature shows that were once a staple of late-night TV.
Yes, it's a dark and stormy night. And we have a voluptuous and exotic young woman in peril — Aria Salazar making her erotic film debut. Add a mysterious mansion in the middle of nowhere, and its even more mysterious inhabitant, played by William Corazon, and we have all the elements necessary for a night of chills and thrills.
Candles flicker in the dimly lit space. The atmosphere is heavy, ominous, and the attraction between the lost lamb and the mysterious man is instantaneous and overwhelming. Even though one can sense the chill in that vast, gloomy space — a feeling enhanced by periodic flashes of lighting and booming thunder — the sheet the twosome occupy is soon stained with the free-flowing sweat of ravenous passion.
The action here isn't only moody and evocative, it's also particularly athletic — the couple push each other's buttons and each other's limits while transitioning through a plethora of positions ensuring not only their mutual satisfaction, but that of the viewer, as well.
"Prince of the Full Moon" offers many erotic treats, along with a trick or two. Consider yourself warned.
Prince of the Full Moon releases this Thursday, October 25th.
October 16, 2012 - by: Adam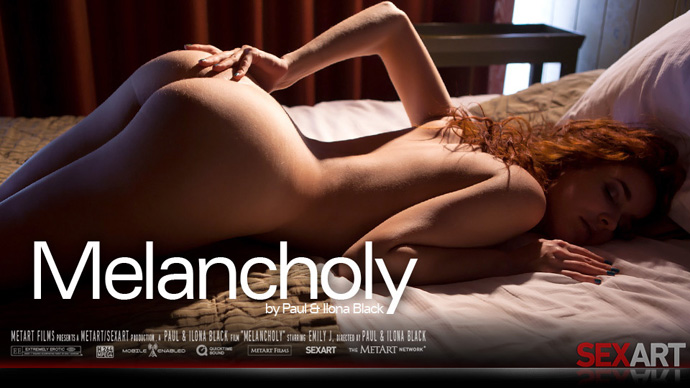 While the star and creators of "Melancholy" are well known to members of TheLifeErotic.com, one of our sister sites in the MetArt Family of sites, this film marks their debut at SexArt. And what a stunning debut it is!
From the moment it starts, through each transition as the story unfolds, and as the sexual, emotional, and visual intensity builds, I am riveted to the screen. Truly, this is bravura filmmaking artfully scaled down to fit within a scant eight minutes of run time. It tells a richly nuanced story, complete with voice over narration, helpful subtitles, and powerful flashbacks. It is beautifully performed, shot, and edited. And it is absolutely one of the flat out hottest solo female productions I've ever experienced.
Don't, under any circumstances, let the film's title put you off. While it's true that a heartbreak sets the story in motion, the "Melancholy" of the title is a passing phase, a challenge to be dealt with. And Emily J deals with it in no uncertain terms! Now, I can tell you that this is, at the most basic level, a female masturbation movie. But it's the realism, the emotion, the electricity, the raw hunger of a woman alone that elevates this to such staggering erotic heights.
With such a beautiful and gifted performer to work with, the director/editor team of Paul and Ilona Black might have hung back and let their star work her magic. Instead they've employed a dazzling array of cinematic techniques to enhance and intensify the on-screen action — "Melancholy" is packed with images and effects that combine to create an erotic visual thrill-ride, with eye-popping surprises around every turn.
Physically, facially, emotionally, and erotically, Emily J is a wonder, a true star. And the concept, execution, and technique employed by Paul and Ilona Black is masterful. Engaging, moving, surprising, and profoundly satisfying, "Melancholy" is nothing less than a masterpiece of short form erotic movie making.
October 07, 2012 - by: Adam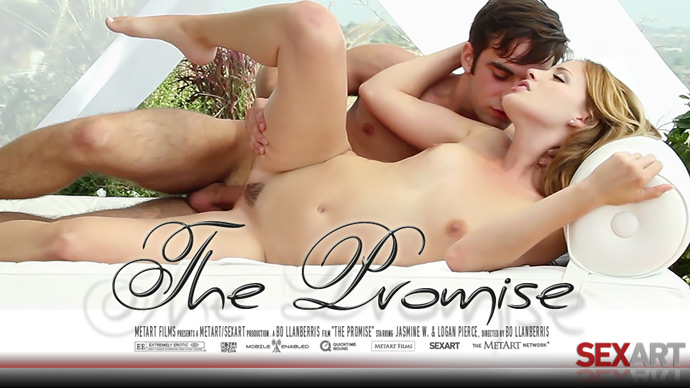 The fundamental skills required of erotic performers couldn't be more basic. The sex drive is instinctual and even the most inept or ignorant individual can figure out the basics quite easily. But take what happens in a private bedroom and put it at the center of a movie set, and things quickly get more complicated. Not only are the performers required to deliver the action, they're also supposed to make it look genuine to the camera while surrounded by onlookers and equipment. Furthermore, they may be having sex with somebody they've only just met, or somebody they know and don't particularly like, or someone they find personally or physically unappealing. The point I'm attempting to make is this: you may have done what the performers are doing, but that doesn't mean you could do the same thing in an erotic film.
Let all that serve as background to the premise of "The Promise." The two stars of the production — Jasmine W. and Logan Pierce — are both adult industry pros. And even a newcomer to SexArt is probably familiar with some of the films they've performed in. But what you may not know, and what I've only just learned, is that the twosome are in a committed, romantic relationship in what's commonly known as "real life." Although they work — and work well — with others, in "The Promise" they work together — in this setting they're not simply skilled and polished professionals, they're genuine, actual, lovers. That fact is abundantly evident here, and gives the production a sense of passion, attraction, connection, and realism that simply can't be faked.
Here's another notable bit of background information: Jasmine W.'s lent star quality sizzle to her numerous girl/girl performances, but here, for the first time, she makes love to a man who happens to be her actual lover. That fact, in and of itself, is reason enough to schedule a viewing.
With all these facts in my mind, I approached "The Promise" with high expectations. And those expectations were immediately met, and quickly exceeded. Jasmine's solo masturbation scene that opens the film is the perfect prelude. When Logan Pierce arrives, shortly after the seven minute mark, the sparks begin to fly. It's immediately clear that these two are happy — delighted, thrilled — to be together, and they enjoy every moment of it. The shared smiles, the subtle, fleeting looks, the prolonged eye-contact, are all clues to the bond the couple shares. And the sex reflects that connection. I get the sense that they're very much in a world of their own, that they're alone, together, and the lights, cameras, and crew members surrounding them have been tuned out entirely so that they can satisfy their own passionate desires. This production could only have come from SexArt, but it's the "LoveArt" aspect that makes "The Promise" so powerfully engaging.
18 U.S.C. 2257 Record-Keeping Requirements Compliance Statement.

Warning - This site contains adult material of a sexual nature - you must be of legal age in your area to view this material.
All materials on sexart.com, are copyright © 2019 sexart.com. All models were at least 18 years of age when photographed.
0.17.0 c958d3